Linear Flow Control LFC - DISCONTINUED
Replaced by Linear Flow Control model VFC
Linear behavior between adjustment angle and flow rate
Large control ratio of 25:1
Actuators IC 20 or IC 40 can be mounted without an adapter
For gas and air
Low leakage rates
High control accuracy
Compatible with MODULINE Series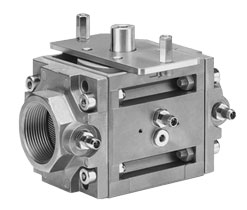 Learn More:
Description Documentation Ordering Information Accesssories
Model and Description
Model
Connection
kVS m3/h
Moduline?
Price
Cart
LFC 108ML05
Connection: 3/8, 1/2, 3/4, 1; kVS m3/h: 2.4; Moduline?: Yes
LFC 108ML05
3/8, 1/2, 3/4, 1
2.4
Yes
Discontinued
Consider the Linear Flow Control VFC as a replacment
LFC 115ML05
Connection: 3/8, 1/2, 3/4, 1; kVS m3/h: 6.7; Moduline?: Yes
LFC 115ML05
3/8, 1/2, 3/4, 1
6.7
Yes
Discontinued
Consider the Linear Flow Control VFC as a replacment
LFC 120ML05
Connection: 3/8, 1/2, 3/4, 1; kVS m3/h: 14; Moduline?: Yes
LFC 120ML05
3/8, 1/2, 3/4, 1
14
Yes
Discontinued
Consider the Linear Flow Control VFC as a replacment
LFC 232ML05
Connection: 1, 1½; kVS m3/h: 27; Moduline?: Yes
LFC 232ML05
1, 1½
27
Yes
Discontinued
Consider the Linear Flow Control VFC as a replacment
For assembly options Contact Combustion 911
Description
The linear flow control LFC adjusts volumes of gas and cold air on various systems. It controls ratios up to 1:25, and with the mounted actuator IC 20 or IC 40, it is suitable for regulating flow rates for modulating or stage-controlled combustion processes.
Accessories
Model and Description
Price
Cart
LFC ACC 01
Fastening set IC-BVG/BVA/BVH/LFC /E
Contact Us
Not available for online purchase.
For assembly options Contact Combustion 911