Burner Control ESA ESTRO
Permanent operation microprocessor burner control
For one or two stage gas and oil burners (pilot or main) of any capacity
Suitable for use with burners in permanent operation in conjunction with flame rod or UV-2 + self-check shutter
May be used with dual electrode, single electrode, or UV detection
Suitable for package burners with complete ignition cycle control (blower, air valve, pressure switches, air flow switch)
Use when air valve control is needed for chamber purge, burner ignition, and temperature regulation (heating/cooling) via external regulator command
Available for control via digital signal or ECS serial communication
CSA Approved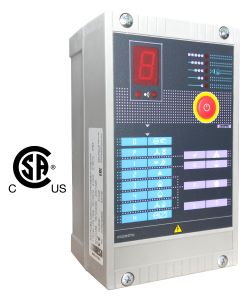 Learn More:
Description Documentation Ordering Information Accessories
Ordering Information
Model and Description
Item ID
Item Description
Expansion
Ignition Transformer
Mains Voltage
Approval
Stock
Price
Cart
ESA ESTRO-A V2.2
Item ID: 23376N; No expansion; No ignition transformer; 115/230V Mains Voltage; CSA approval.
23376N
ESA ESTRO-A V2.2
No
No
115/230V
CSA
Contact Us
ESA ESTRO-A V2.2
Item ID: 23377N; EXP-2 expansion; No ignition transformer; 115V Mains Voltage; CSA approval.
23377N
ESA ESTRO-A V2.2
EXP-2
No
115V
CSA
Contact Us
ESA ESTRO-A V2.2
Item ID: 23380N; No expansion; TAR-10 ignition transformer; 115V Mains Voltage; CSA approval.
23380N
ESA ESTRO-A V2.2
No
TAR-10
115V
CSA
Contact Us
ESA ESTRO-B V2.2
Item ID: 22172N; No expansion; No ignition transformer; 115/230V Mains Voltage; CSA approval.
22172N
ESA ESTRO-B V2.2
No
No
115/230V
CSA
Contact Us
ESA ESTRO-B V2.2
Item ID: 22199N; EXP-2 expansion; No ignition transformer; 115V Mains Voltage; CSA approval.
22199N
ESA ESTRO-B V2.2
EXP-2
No
115V
CSA
Contact Us
ESA ESTRO-B V2.2
Item ID: 22181N; No expansion; TAR-10 ignition transformer; 115V Mains Voltage; CSA approval.
22181N
ESA ESTRO-B V2.2
No
TAR-10
115V
CSA
Contact Us
ESA ESTRO-C V2.2
Item ID: 22173N; No expansion; No ignition transformer; 115/230V Mains Voltage; CSA approval.
22173N
ESA ESTRO-C V2.2
No
No
115/230V
CSA
Contact Us
ESA ESTRO-C V2.2
Item ID: 22200N; EXP-2 expansion; No ignition transformer; 115V Mains Voltage; CSA approval.
22200N
ESA ESTRO-C V2.2
EXP-2
No
115V
CSA
Contact Us
ESA ESTRO-C V2.2
Item ID: 22182N; No expansion; TAR-10 ignition transformer; 115V Mains Voltage; CSA approval.
22182N
ESA ESTRO-C V2.2
No
TAR-10
115V
CSA
Contact Us
ESA ESTRO-Q V2.2
Item ID: 22174N; No expansion; No ignition transformer; 115/230V Mains Voltage; CSA approval.
22174N
ESA ESTRO-Q V2.2
No
No
115/230V
CSA
Contact Us
ESA ESTRO-Q V2.2
Item ID: 22201N; EXP-2 expansion; No ignition transformer; 115V Mains Voltage; CSA approval.
22201N
ESA ESTRO-Q V2.2
EXP-2
No
115V
CSA
Contact Us
ESA ESTRO-C V2.2
Item ID: 22183N; No expansion; TAR-10 ignition transformer; 115V Mains Voltage; CSA approval.
22183N
ESA ESTRO-Q V2.2
No
TAR-10
115V
CSA
Contact Us
Description
ESA ESTRO is a microprocessor operated burner control device that controls gas and oil burners for continuous operation. This device safely controls one or two stage burners (pilot and main) and combustion air. ESTRO V2.2 can detect flame signal via ionization sensor (flame rod) or UV, continuously performing a periodic check of the sensor. The flame control device is equipped with serial communication which allows remote burner control. The robust enclosure allows mounting near the burner.
ESTRO can be provided with either an integrated ignition transformer or an expansion card. Ignition transformer TAR-10 is suitable for dual or single electrode operation and has a 19% duty cycle. EXP-2 provides inputs for a thermostat, air pressure switch, purge air flow switch, and ignition air flow switch, and outputs for an air valve or blower, air dampening valve (open/close) and external regulator. EXP-5 has four digital inputs and four digital outputs with predefined functions. See literature for more information.
Accessories
Model and Description
Price
Cart
Ignition Cable
Silicone Rubber Cable High Voltage 7mm (priced per foot).