Actuator IC 40
Use model IC 40 actuators for complex combustion applications
Programmable functions for flexible adjustment
Statistics and error history to support service personnel
A position indicator that can be read externally
Spacious connection chamber for ease of installation
Use IC 20 models for basic applications with continuous or three-point step control and automatic/manual mode changeover for easy commissioning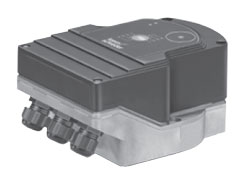 Learn More:
Description Documentation Ordering Information Accessories
Ordering Information

Alternate Product

Model and
Description
Model
Safety Closing*
Torque
Analogue input
Feedback potentiometer
Lead Time
Model
Lead Time
Order
IC 40A2D
No safety closing; Torque: 2.5Nm; No analog input; No feedback potentiometer
IC 40A2D
No
2.5 Nm
No
No
12-14 weeks
IC 40A2A
No safety closing; Torque: 2.5Nm; Analog input: 4–20 mA; No feedback potentiometer
IC 40A2A
No
2.5 Nm
4–20 mA
No
12-14 weeks
MZ5
In Stock
Learn More
IC 40A2DR10
No safety closing; Torque: 2.5Nm; No analog input; Feedback potentiometer: 0–1000 Ω
IC 40A2DR10
No
2.5 Nm
No
0–1000 Ω
12-14 weeks
IC 40A2AR10
No safety closing; Torque: 2.5Nm; Analog input: 4–20 mA; Feedback potentiometer: 0–1000 Ω
IC 40A2AR10
No
2.5 Nm
4–20 mA
0–1000 Ω
12-14 weeks
MZ5
In Stock
Learn More
IC 40SA3A
Safety closing; Torque: 3.0Nm; Analog input: 4–20 mA; No feedback potentiometer
IC 40SA3A
Yes
3.0 Nm
4–20 mA
No
12-14 weeks
IC 40SA3AR10
Safety closing; Torque: 3.0Nm; Analog input: 4–20 mA; Feedback potentiometer: 0–1000 Ω
IC 40SA3AR10
Yes
3.0 Nm
4–20 mA
0–1000 Ω
12-14 weeks
For all other configurations Contact Combustion 911
*With butterfly valve BVHS only
Description
The Kromschroder actuators IC 20 and IC 40 are for all applications that require precise, controlled rotary movement between 0° and 90°. They can be mounted directly onto the butterfly valve BVG or butterfly valve BVH to control gas and air flow rates on gas burners. They are designed for control ratios up to 1:10.
An optional integrated feedback potentiometer offers the option of monitoring the current position of the actuator. This scan function can be used in automation processes.
The IC 40 offers additional functions. It can be used in continuously controlled burners and in step-by-step-controlled burners.
Settings on the actuator IC 40 can be made using a PC with the software BCSoft. All the relevant settings for the process are made using the software via an optical interface. Various operating modes, which may be modified, are stored in the unit. In addition the control type (two-point signal, three-point step signal, or continuous control), running times, adjustment angles, and intermediate positions can be programmed.
The actuator can also be controlled manually using the software.
Once set, all the parameters can be saved on the PC and copied from there into other actuators, saving time during the commissioning process.
Service technicians can call up statistical data using BCSoft, such as hours of operation, actuating cycles, and an error history. Some values can also be set to zero, for example, to record data over a specific period of time.
Accessories
Model and Description
Price
Cart

IC-20/40 ACC 01


Fastening set IC-BVG/BVA/BVH/LFC /B
Contact Us
Not available for online purchase.

IC-20/40 ACC 02


Attachment set IC 20/IC 40 single application /B
Contact Us
Not available for online purchase.
PCO 200
Optical Adapter for BC Soft with USB interface, includes CD-ROM
Contact Us
Not available for online purchase.

For all other accessories Contact Combustion 911