C911-P Pressure Switch for Gas and Air
Pressure switch for gas and air
Suitable for rising, falling, or differential pressure
Monitors natural gas, LPG (gaseous), and air
A lamp indicates the state of the switch
All models have NPT connection
One normally open and one normally closed contact in each switch
Compact construction, easy installation
FM approved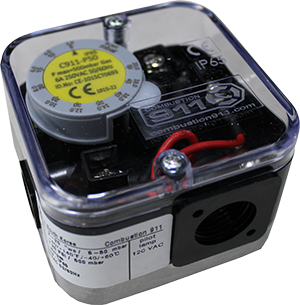 Learn More:
Description Documentation Ordering Information Accessories
Ordering Information
Model and Description
Model
Connection
Pressure Range
Stock
Price
Cart
C911-P3
Connection: ¼" NPT; Pressure Range: 0.16 - 1.2 WC
C911-P3
¼" NPT
0.16 - 1.2 WC
C911-P5
Connection: ¼" NPT; Pressure Range: 0.2 - 2 WC
C911-P5
¼" NPT
0.2 - 2 WC
C911-P10
Connection: ¼" NPT; Pressure Range: 0.8 - 4 WC
C911-P10
¼" NPT
0.8 - 4 WC
C911-P50
Connection: ¼" NPT; Pressure Range: 2 - 20 WC
C911-P50
¼" NPT
2 - 20 WC
C911-P150
Connection: ¼" NPT; Pressure Range: 12 - 60 WC
C911-P150
¼" NPT
12 - 60 WC
C911-P500
Connection: ¼" NPT; Pressure Range: 40 - 200 WC
C911-P500
¼" NPT
40 - 200 WC
Description
The C911-P monitors gas or air pressure in a pipeline and activates switch contacts according to the pressure set point. The pressure set point is selected using a dial, visible beneath clear plastic.
The C911-P can be used alone or integrated into a gas safety system.
When monitoring differential pressure, use with air only.
Please note, C911-P is rated for use with 24V – 250V AC, or 24V – 48V DC.
Please review the technical documentation for specification details.
Accessories
Model and Description
Stock
Price
Cart
C911-PL24
24V AC/DC LED
C911-PL230
230V AC LED
C911-PADP
Straight thread adapter M18x1.5 to ½ inch NPT
C911-PCG
M18x1.5 Cable Gland