Double Solenoid Valve for Gas VMM
Safety shut-off valve for air and non-aggressive gases included in the 1, 2, and 3 families
Special versions for aggressive gases
Side valve options for bypass in 1/2 or 1"
Pressure ratings available: 3 PSI, 7.25 PSI
Flow rate adjustment up to 3" size
Visual indication available (device for field installation)
Proof of closure with integrated visual indication available on most models
Suitable for high-duty cycling
FM approved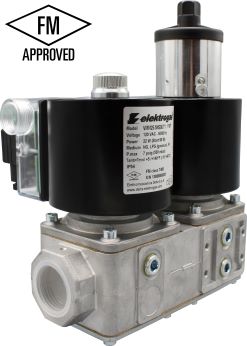 Learn More:
Description Documentation Ordering Information Videos
Ordering Information
7.25 PSI Models with DIN plug
Model and Description
Model
Connection
V1
V2
Electrical Connection
Mains Voltage
Max Pressure (PSI)
Features
Stock
Price
Cart
VMM20-5NF00.I
Double Safety Shut Off Valve (SSOV) for gas; 3/4" NPT Connection; V1 & V2: Fast Open/Fast Close; 120V; Max. Pressure: 7.25 PSI; with Low Power Board; Electrical Connection via DIN Plug
VMM20-5NF00.I
3/4″ NPT
Fast Open/Fast Close
Fast Open/Fast Close
DIN Plug
120 V AC
7.25
Low Power Board
VMM20-5NF00.IO1
Double Safety Shut Off Valve (SSOV) for gas; 3/4" NPT Connection; V1 & V2: Fast Open/Fast Close; 120V; Max. Pressure: 7.25 PSI; with Low Power Board; Electrical Connection via DIN Plug; IP65
VMM20-5NF00.IO1
3/4″ NPT
Fast Open/Fast Close
Fast Open/Fast Close
DIN Plug
120 V AC
7.25
Low Power Board; IP65
VMM20-5NF00.PI
Double Safety Shut Off Valve (SSOV) for gas; 3/4" NPT Connection; V1 & V2: Fast Open/Fast Close; 120V; Max. Pressure: 7.25 PSI; with Low Power Board; with one Proof of Closure Device; Electrical Connection via DIN Plug
VMM20-5NF00.PI
3/4″ NPT
Fast Open/Fast Close
Fast Open/Fast Close
DIN Plug
120 V AC
7.25
Low Power Board; One Proof of Closure Device
VMM20-5NF00.PIO1
Double Safety Shut Off Valve (SSOV) for gas; 3/4" NPT Connection; V1 & V2: Fast Open/Fast Close; 120V; Max. Pressure: 7.25 PSI; with Low Power Board; with one Proof of Closure Device; Electrical Connection via DIN Plug; IP65
VMM20-5NF00.PIO1
3/4″ NPT
Fast Open/Fast Close
Fast Open/Fast Close
DIN Plug
120 V AC
7.25
Low Power Board; One Proof of Closure Device; IP65
VMM20-5NS00.I
Double Safety Shut Off Valve (SSOV) for gas; 3/4" NPT Connection; V1: Fast Open/Fast Close; V2: Slow Open/Fast Close; 120V; Max. Pressure: 7.25 PSI; with Low Power Board; Electrical Connection via DIN Plug
VMM20-5NS00.I
3/4″ NPT
Fast Open/Fast Close
Slow Open/Fast Close
DIN Plug
120 V AC
7.25
Low Power Board
VMM20-5NS00.IO1
Double Safety Shut Off Valve (SSOV) for gas; 3/4" NPT Connection; V1: Fast Open/Fast Close; V2: Slow Open/Fast Close; 120V; Max. Pressure: 7.25 PSI; with Low Power Board; Electrical Connection via DIN Plug; IP65
VMM20-5NS00.IO1
3/4″ NPT
Fast Open/Fast Close
Slow Open/Fast Close
DIN Plug
120 V AC
7.25
Low Power Board; IP65
VMM20-5NS00.PI
Double Safety Shut Off Valve (SSOV) for gas; 3/4" NPT Connection; V1: Fast Open/Fast Close; V2: Slow Open/Fast Close; 120V; Max. Pressure: 7.25 PSI; with Low Power Board; with one Proof of Closure Device; Electrical Connection via DIN Plug
VMM20-5NS00.PI
3/4″ NPT
Fast Open/Fast Close
Slow Open/Fast Close
DIN Plug
120 V AC
7.25
Low Power Board; One Proof of Closure Device
VMM20-5NS00.PIO1
Double Safety Shut Off Valve (SSOV) for gas; 3/4" NPT Connection; V1: Fast Open/Fast Close; V2: Slow Open/Fast Close; 120V; Max. Pressure: 7.25 PSI; with Low Power Board; with one Proof of Closure Device; Electrical Connection via DIN Plug; IP65
VMM20-5NS00.PIO1
3/4″ NPT
Fast Open/Fast Close
Slow Open/Fast Close
DIN Plug
120 V AC
7.25
Low Power Board; One Proof of Closure Device; IP65
VMM25-5NF00.I
Double Safety Shut Off Valve (SSOV) for gas; 1" NPT Connection; V1 & V2: Fast Open/Fast Close; 120V; Max. Pressure: 7.25 PSI; with Low Power Board; Electrical Connection via DIN Plug
VMM25-5NF00.I
1″ NPT
Fast Open/Fast Close
Fast Open/Fast Close
DIN Plug
120 V AC
7.25
Low Power Board
VMM25-5NF00.IO1
Double Safety Shut Off Valve (SSOV) for gas; 1" NPT Connection; V1 & V2: Fast Open/Fast Close; 120V; Max. Pressure: 7.25 PSI; with Low Power Board; Electrical Connection via DIN Plug; IP 65
VMM25-5NF00.IO1
1″ NPT
Fast Open/Fast Close
Fast Open/Fast Close
DIN Plug
120 V AC
7.25
Low Power Board; IP 65
VMM25-5NF00.PI
Double Safety Shut Off Valve (SSOV) for gas; 1" NPT Connection; V1 & V2: Fast Open/Fast Close; 120V; Max. Pressure: 7.25 PSI; with Low Power Board; with one Proof of Closure Device; Electrical Connection via DIN Plug
VMM25-5NF00.PI
1″ NPT
Fast Open/Fast Close
Fast Open/Fast Close
DIN Plug
120 V AC
7.25
Low Power Board; One Proof of Closure Device
VMM25-5NF00.PIO1
Double Safety Shut Off Valve (SSOV) for gas; 1" NPT Connection; V1 & V2: Fast Open/Fast Close; 120V; Max. Pressure: 7.25 PSI; with Low Power Board; with one Proof of Closure Device; Electrical Connection via DIN Plug; IP65
VMM25-5NF00.PIO1
1″ NPT
Fast Open/Fast Close
Fast Open/Fast Close
DIN Plug
120 V AC
7.25
Low Power Board; One Proof of Closure Devic; IP65e
VMM25-5NS00.I
Double Safety Shut Off Valve (SSOV) for gas; 1" NPT Connection; V1: Fast Open/Fast Close; V2: Slow Open/Fast Close; 120V; Max. Pressure: 7.25 PSI; with Low Power Board; Electrical Connection via DIN Plug
VMM25-5NS00.I
1″ NPT
Fast Open/Fast Close
Slow Open/Fast Close
DIN Plug
120 V AC
7.25
Low Power Board
VMM25-5NS00.IO1
Double Safety Shut Off Valve (SSOV) for gas; 1" NPT Connection; V1: Fast Open/Fast Close; V2: Slow Open/Fast Close; 120V; Max. Pressure: 7.25 PSI; with Low Power Board; Electrical Connection via DIN Plug; IP65
VMM25-5NS00.IO1
1″ NPT
Fast Open/Fast Close
Slow Open/Fast Close
DIN Plug
120 V AC
7.25
Low Power Board; IP65
VMM25-5NS00.PI
Double Safety Shut Off Valve (SSOV) for gas; 1" NPT Connection; V1: Fast Open/Fast Close; V2: Slow Open/Fast Close; 120V; Max. Pressure: 7.25 PSI; with Low Power Board; with one Proof of Closure Device; Electrical Connection via DIN Plug
VMM25-5NS00.PI
1″ NPT
Fast Open/Fast Close
Slow Open/Fast Close
DIN Plug
120 V AC
7.25
Low Power Board; One Proof of Closure Device
VMM25-5NS00.PIO1
Double Safety Shut Off Valve (SSOV) for gas; 1" NPT Connection; V1: Fast Open/Fast Close; V2: Slow Open/Fast Close; 120V; Max. Pressure: 7.25 PSI; with Low Power Board; with one Proof of Closure Device; Electrical Connection via DIN Plug; IP65
VMM25-5NS00.PIO1
1″ NPT
Fast Open/Fast Close
Slow Open/Fast Close
DIN Plug
120 V AC
7.25
Low Power Board; One Proof of Closure Device; IP65
VMM32-5NF00.I
Double Safety Shut Off Valve (SSOV) for gas; 1¼" NPT Connection; V1 & V2: Fast Open/Fast Close; 120V; Max. Pressure: 7.25 PSI; with Low Power Board; Electrical Connection via DIN Plug
VMM32-5NF00.I
1¼″ NPT
Fast Open/Fast Close
Fast Open/Fast Close
DIN Plug
120 V AC
7.25
Low Power Board
VMM32-5NF00.IO1
Double Safety Shut Off Valve (SSOV) for gas; 1¼" NPT Connection; V1 & V2: Fast Open/Fast Close; 120V; Max. Pressure: 7.25 PSI; with Low Power Board; Electrical Connection via DIN Plug; IP65
VMM32-5NF00.IO1
1¼″ NPT
Fast Open/Fast Close
Fast Open/Fast Close
DIN Plug
120 V AC
7.25
Low Power Board; IP65
VMM32-5NF00.PI
Double Safety Shut Off Valve (SSOV) for gas; 1¼" NPT Connection; V1 & V2: Fast Open/Fast Close; 120V; Max. Pressure: 7.25 PSI; with Low Power Board; with one Proof of Closure Device; Electrical Connection via DIN Plug
VMM32-5NF00.PI
1¼″ NPT
Fast Open/Fast Close
Fast Open/Fast Close
DIN Plug
120 V AC
7.25
Low Power Board; One Proof of Closure Device
VMM32-5NF00.PIO1
Double Safety Shut Off Valve (SSOV) for gas; 1¼" NPT Connection; V1 & V2: Fast Open/Fast Close; 120V; Max. Pressure: 7.25 PSI; with Low Power Board; with one Proof of Closure Device; Electrical Connection via DIN Plug; IP65
VMM32-5NF00.PIO1
1¼″ NPT
Fast Open/Fast Close
Fast Open/Fast Close
DIN Plug
120 V AC
7.25
Low Power Board; One Proof of Closure Device; IP65
VMM32-5NS00.I
Double Safety Shut Off Valve (SSOV) for gas; 1¼" NPT Connection; V1: Fast Open/Fast Close; V2: Slow Open/Fast Close; 120V; Max. Pressure: 7.25 PSI; with Low Power Board; Electrical Connection via DIN Plug
VMM32-5NS00.I
1¼″ NPT
Fast Open/Fast Close
Slow Open/Fast Close
DIN Plug
120 V AC
7.25
Low Power Board
VMM32-5NS00.IO1
Double Safety Shut Off Valve (SSOV) for gas; 1¼" NPT Connection; V1: Fast Open/Fast Close; V2: Slow Open/Fast Close; 120V; Max. Pressure: 7.25 PSI; with Low Power Board; Electrical Connection via DIN Plug; IP65
VMM32-5NS00.IO1
1¼″ NPT
Fast Open/Fast Close
Slow Open/Fast Close
DIN Plug
120 V AC
7.25
Low Power Board; IP65
VMM32-5NS00.PI
Double Safety Shut Off Valve (SSOV) for gas; 1¼" NPT Connection; V1: Fast Open/Fast Close; V2: Slow Open/Fast Close; 120V; Max. Pressure: 7.25 PSI; with Low Power Board; with one Proof of Closure Device; Electrical Connection via DIN Plug
VMM32-5NS00.PI
1¼″ NPT
Fast Open/Fast Close
Slow Open/Fast Close
DIN Plug
120 V AC
7.25
Low Power Board; One Proof of Closure Device
VMM32-5NS00.PIO1
Double Safety Shut Off Valve (SSOV) for gas; 1¼" NPT Connection; V1: Fast Open/Fast Close; V2: Slow Open/Fast Close; 120V; Max. Pressure: 7.25 PSI; with Low Power Board; with one Proof of Closure Device; Electrical Connection via DIN Plug; IP65
VMM32-5NS00.PIO1
1¼″ NPT
Fast Open/Fast Close
Slow Open/Fast Close
DIN Plug
120 V AC
7.25
Low Power Board; One Proof of Closure Device; IP65
VMM40-5NF00.I
Double Safety Shut Off Valve (SSOV) for gas; 1½" NPT Connection; V1 & V2: Fast Open/Fast Close; 120V; Max. Pressure: 7.25 PSI; with Low Power Board; Electrical Connection via DIN Plug
VMM40-5NF00.I
1½″ NPT
Fast Open/Fast Close
Fast Open/Fast Close
DIN Plug
120 V AC
7.25
Low Power Board
VMM40-5NF00.IO1
Double Safety Shut Off Valve (SSOV) for gas; 1½" NPT Connection; V1 & V2: Fast Open/Fast Close; 120V; Max. Pressure: 7.25 PSI; with Low Power Board; Electrical Connection via DIN Plug; IP65
VMM40-5NF00.IO1
1½″ NPT
Fast Open/Fast Close
Fast Open/Fast Close
DIN Plug
120 V AC
7.25
Low Power Board; IP65
VMM40-5NF00.PI
Double Safety Shut Off Valve (SSOV) for gas; 1½" NPT Connection; V1 & V2: Fast Open/Fast Close; 120V; Max. Pressure: 7.25 PSI; with Low Power Board; with one Proof of Closure Device; Electrical Connection via DIN Plug
VMM40-5NF00.PI
1½″ NPT
Fast Open/Fast Close
Fast Open/Fast Close
DIN Plug
120 V AC
7.25
Low Power Board; One Proof of Closure Device
VMM40-5NF00.PIO1
Double Safety Shut Off Valve (SSOV) for gas; 1½" NPT Connection; V1 & V2: Fast Open/Fast Close; 120V; Max. Pressure: 7.25 PSI; with Low Power Board; with one Proof of Closure Device; Electrical Connection via DIN Plug; IP65
VMM40-5NF00.PIO1
1½″ NPT
Fast Open/Fast Close
Fast Open/Fast Close
DIN Plug
120 V AC
7.25
Low Power Board; One Proof of Closure Device; IP65
VMM40-5NS00.I
Double Safety Shut Off Valve (SSOV) for gas; 1½" NPT Connection; V1: Fast Open/Fast Close; V2: Slow Open/Fast Close; 120V; Max. Pressure: 7.25 PSI; with Low Power Board; Electrical Connection via DIN Plug
VMM40-5NS00.I
1½″ NPT
Fast Open/Fast Close
Slow Open/Fast Close
DIN Plug
120 V AC
7.25
Low Power Board
VMM40-5NS00.IO1
Double Safety Shut Off Valve (SSOV) for gas; 1½" NPT Connection; V1: Fast Open/Fast Close; V2: Slow Open/Fast Close; 120V; Max. Pressure: 7.25 PSI; with Low Power Board; Electrical Connection via DIN Plug; IP65
VMM40-5NS00.IO1
1½″ NPT
Fast Open/Fast Close
Slow Open/Fast Close
DIN Plug
120 V AC
7.25
Low Power Board; IP65
VMM40-5NS00.PI
Double Safety Shut Off Valve (SSOV) for gas; 1½" NPT Connection; V1: Fast Open/Fast Close; V2: Slow Open/Fast Close; 120V; Max. Pressure: 7.25 PSI; with Low Power Board; with one Proof of Closure Device; Electrical Connection via DIN Plug
VMM40-5NS00.PI
1½″ NPT
Fast Open/Fast Close
Slow Open/Fast Close
DIN Plug
120 V AC
7.25
Low Power Board; One Proof of Closure Device
VMM40-5NS00.PIO1
Double Safety Shut Off Valve (SSOV) for gas; 1½" NPT Connection; V1: Fast Open/Fast Close; V2: Slow Open/Fast Close; 120V; Max. Pressure: 7.25 PSI; with Low Power Board; with one Proof of Closure Device; Electrical Connection via DIN Plug; IP65
VMM40-5NS00.PIO1
1½″ NPT
Fast Open/Fast Close
Slow Open/Fast Close
DIN Plug
120 V AC
7.25
Low Power Board; One Proof of Closure Device; IP65
VMM50-5NF00.I
Double Safety Shut Off Valve (SSOV) for gas; 2" NPT Connection; V1 & V2: Fast Open/Fast Close; 120V; Max. Pressure: 7.25 PSI; with Low Power Board; Electrical Connection via DIN Plug
VMM50-5NF00.I
2″ NPT
Fast Open/Fast Close
Fast Open/Fast Close
DIN Plug
120 V AC
7.25
Low Power Board
VMM50-5NF00.IO1
Double Safety Shut Off Valve (SSOV) for gas; 2" NPT Connection; V1 & V2: Fast Open/Fast Close; 120V; Max. Pressure: 7.25 PSI; with Low Power Board; Electrical Connection via DIN Plug; IP65
VMM50-5NF00.IO1
2″ NPT
Fast Open/Fast Close
Fast Open/Fast Close
DIN Plug
120 V AC
7.25
Low Power Board; IP65
VMM50-5NF00.PI
Double Safety Shut Off Valve (SSOV) for gas; 2" NPT Connection; V1 & V2: Fast Open/Fast Close; 120V; Max. Pressure: 7.25 PSI; with Low Power Board; with one Proof of Closure Device; Electrical Connection via DIN Plug
VMM50-5NF00.PI
2″ NPT
Fast Open/Fast Close
Fast Open/Fast Close
DIN Plug
120 V AC
7.25
Low Power Board; One Proof of Closure Device
VMM50-5NF00.PIO1
Double Safety Shut Off Valve (SSOV) for gas; 2" NPT Connection; V1 & V2: Fast Open/Fast Close; 120V; Max. Pressure: 7.25 PSI; with Low Power Board; with one Proof of Closure Device; Electrical Connection via DIN Plug; IP 65
VMM50-5NF00.PIO1
2″ NPT
Fast Open/Fast Close
Fast Open/Fast Close
DIN Plug
120 V AC
7.25
Low Power Board; One Proof of Closure Device; IP 65
VMM50-5NS00.I
Double Safety Shut Off Valve (SSOV) for gas; 2" NPT Connection; V1: Fast Open/Fast Close; V2: Slow Open/Fast Close; 120V; Max. Pressure: 7.25 PSI; with Low Power Board; Electrical Connection via DIN Plug
VMM50-5NS00.I
2″ NPT
Fast Open/Fast Close
Slow Open/Fast Close
DIN Plug
120 V AC
7.25
Low Power Board
VMM50-5NS00.IO1
Double Safety Shut Off Valve (SSOV) for gas; 2" NPT Connection; V1 & V2: Slow Open/Fast Close; 120V; Max. Pressure: 7.25 PSI; with Low Power Board; Electrical Connection via DIN Plug; IP65
VMM50-5NS00.IO1
2″ NPT
Slow Open/Fast Close
Slow Open/Fast Close
DIN Plug
120 V AC
7.25
Low Power Board; IP65
VMM50-5NS00.PI
Double Safety Shut Off Valve (SSOV) for gas; 2" NPT Connection; V1: Fast Open/Fast Close; V2: Slow Open/Fast Close; 120V; Max. Pressure: 7.25 PSI; with Low Power Board; with one Proof of Closure Device; Electrical Connection via DIN Plug
VMM50-5NS00.PI
2″ NPT
Fast Open/Fast Close
Slow Open/Fast Close
DIN Plug
120 V AC
7.25
Low Power Board; One Proof of Closure Device
VMM50-5NS00.PIO1
Double Safety Shut Off Valve (SSOV) for gas; 2" NPT Connection; V1: Fast Open/Fast Close; V2: Slow Open/Fast Close; 120V; Max. Pressure: 7.25 PSI; with Low Power Board; with one Proof of Closure Device; Electrical Connection via DIN Plug; IP65
VMM50-5NS00.PIO1
2″ NPT
Fast Open/Fast Close
Slow Open/Fast Close
DIN Plug
120 V AC
7.25
Low Power Board; One Proof of Closure Device; IP65
VMM50F-5NF00.I
Double Safety Shut Off Valve (SSOV) for gas; 2" ANSI Connection; V1 & V2: Fast Open/Fast Close; 120V; Max. Pressure: 7.25 PSI; with Low Power Board; Electrical Connection via DIN Plug
VMM50F-5NF00.I
2″ ANSI
Fast Open/Fast Close
Fast Open/Fast Close
DIN Plug
120 V AC
7.25
Low Power Board
VMM50F-5NF00.IO1
Double Safety Shut Off Valve (SSOV) for gas; 2" ANSI Connection; V1 & V2: Fast Open/Fast Close; 120V; Max. Pressure: 7.25 PSI; with Low Power Board; Electrical Connection via DIN Plug; IP65
VMM50F-5NF00.IO1
2″ ANSI
Fast Open/Fast Close
Fast Open/Fast Close
DIN Plug
120 V AC
7.25
Low Power Board; IP65
VMM50F-5NF00.PI
Double Safety Shut Off Valve (SSOV) for gas; 2" ANSI Connection; V1 & V2: Fast Open/Fast Close; 120V; Max. Pressure: 7.25 PSI; with Low Power Board; with one Proof of Closure Device; Electrical Connection via DIN Plug
VMM50F-5NF00.PI
2″ ANSI
Fast Open/Fast Close
Fast Open/Fast Close
DIN Plug
120 V AC
7.25
Low Power Board; One Proof of Closure Device
VMM50F-5NF00.PIO1
Double Safety Shut Off Valve (SSOV) for gas; 2" ANSI Connection; V1 & V2: Fast Open/Fast Close; 120V; Max. Pressure: 7.25 PSI; with Low Power Board; with one Proof of Closure Device; Electrical Connection via DIN Plug; IP65
VMM50F-5NF00.PIO1
2″ ANSI
Fast Open/Fast Close
Fast Open/Fast Close
DIN Plug
120 V AC
7.25
Low Power Board; One Proof of Closure Device; IP65
VMM50F-5NS00.I
Double Safety Shut Off Valve (SSOV) for gas; 2" ANSI Connection; V1: Fast Open/Fast Close; V2: Slow Open/Fast Close; 120V; Max. Pressure: 7.25 PSI; with Low Power Board; Electrical Connection via DIN Plug
VMM50F-5NS00.I
2″ ANSI
Fast Open/Fast Close
Slow Open/Fast Close
DIN Plug
120 V AC
7.25
Low Power Board
VMM50F-5NS00.IO1
Double Safety Shut Off Valve (SSOV) for gas; 2" ANSI Connection; V1 & V2: Slow Open/Fast Close; 120V; Max. Pressure: 7.25 PSI; with Low Power Board; Electrical Connection via DIN Plug; IP65
VMM50F-5NS00.IO1
2″ ANSI
Fast Open/Fast Close
Slow Open/Fast Close
DIN Plug
120 V AC
7.25
Low Power Board; IP65
VMM50F-5NS00.PI
Double Safety Shut Off Valve (SSOV) for gas; 2" ANSI Connection; V1: Fast Open/Fast Close; V2: Slow Open/Fast Close; 120V; Max. Pressure: 7.25 PSI; with Low Power Board; with one Proof of Closure Device; Electrical Connection via DIN Plug
VMM50F-5NS00.PI
2″ ANSI
Fast Open/Fast Close
Slow Open/Fast Close
DIN Plug
120 V AC
7.25
Low Power Board; One Proof of Closure Device
VMM50F-5NS00.PIO1
Double Safety Shut Off Valve (SSOV) for gas; 2" ANSI Connection; V1: Fast Open/Fast Close; V2: Slow Open/Fast Close; 120V; Max. Pressure: 7.25 PSI; with Low Power Board; with one Proof of Closure Device; Electrical Connection via DIN Plug; IP65
VMM50F-5NS00.PIO1
2″ ANSI
Fast Open/Fast Close
Slow Open/Fast Close
DIN Plug
120 V AC
7.25
Low Power Board; One Proof of Closure Device; IP65
VMM78-5NF00.I
Double Safety Shut Off Valve (SSOV) for gas; 2½, 3" ANSI Connection; V1 & V2: Fast Open/Fast Close; 120V; Max. Pressure: 7.25 PSI; with Low Power Board; Electrical Connection via DIN Plug
VMM78-5NF00.I
2½, 3″ ANSI
Fast Open/Fast Close
Fast Open/Fast Close
DIN Plug
120 V AC
7.25
Low Power Board
VMM78-5NF00.IO1
Double Safety Shut Off Valve (SSOV) for gas; 2½, 3" ANSI Connection; V1 & V2: Fast Open/Fast Close; 120V; Max. Pressure: 7.25 PSI; with Low Power Board; Electrical Connection via DIN Plug; IP65
VMM78-5NF00.IO1
2½, 3″ ANSI
Fast Open/Fast Close
Fast Open/Fast Close
DIN Plug
120 V AC
7.25
Low Power Board; IP65
VMM78-5NF00.PI
Double Safety Shut Off Valve (SSOV) for gas; 2½, 3" ANSI Connection; V1 & V2: Fast Open/Fast Close; 120V; Max. Pressure: 7.25 PSI; with Low Power Board; with one Proof of Closure Device; Electrical Connection via DIN Plug
VMM78-5NF00.PI
2½, 3″ ANSI
Fast Open/Fast Close
Fast Open/Fast Close
DIN Plug
120 V AC
7.25
Low Power Board; One Proof of Closure Device
VMM78-5NF00.PIO1
Double Safety Shut Off Valve (SSOV) for gas; 2½, 3" ANSI Connection; V1: Fast Open/Fast Close; V2: Fast Open/Fast Close; 120V; Max. Pressure: 7.25 PSI; with Low Power Board; with one Proof of Closure Device; Electrical Connection via DIN Plug; IP65
VMM78-5NF00.PIO1
2½, 3″ ANSI
Fast Open/Fast Close
Fast Open/Fast Close
DIN Plug
120 V AC
7.25
Low Power Board; One Proof of Closure Device; IP65
VMM78-5NS00.I
Double Safety Shut Off Valve (SSOV) for gas; 2½, 3" ANSI Connection; V1: Fast Open/Fast Close; V2: Slow Open/Fast Close; 120V; Max. Pressure: 7.25 PSI; with Low Power Board; Electrical Connection via DIN Plug
VMM78-5NS00.I
2½, 3″ ANSI
Fast Open/Fast Close
Slow Open/Fast Close
DIN Plug
120 V AC
7.25
Low Power Board
VMM78-5NS00.IO1
Double Safety Shut Off Valve (SSOV) for gas; 2½, 3" ANSI Connection; V1: Fast Open/Fast Close; V2: Slow Open/Fast Close; 120V; Max. Pressure: 7.25 PSI; with Low Power Board; Electrical Connection via DIN Plug; IP65
VMM78-5NS00.IO1
2½, 3″ ANSI
Fast Open/Fast Close
Slow Open/Fast Close
DIN Plug
120 V AC
7.25
Low Power Board; IP65
VMM78-5NS00.PI
Double Safety Shut Off Valve (SSOV) for gas; 2½, 3" ANSI Connection; V1: Fast Open/Fast Close; V2: Slow Open/Fast Close; 120V; Max. Pressure: 7.25 PSI; with Low Power Board; with one Proof of Closure Device; Electrical Connection via DIN Plug
VMM78-5NS00.PI
2½, 3″ ANSI
Fast Open/Fast Close
Slow Open/Fast Close
DIN Plug
120 V AC
7.25
Low Power Board; One Proof of Closure Device
VMM78-5NS00.PIO1
Double Safety Shut Off Valve (SSOV) for gas; 2½, 3" ANSI Connection; V1: Fast Open/Fast Close; V2: Slow Open/Fast Close; 120V; Max. Pressure: 7.25 PSI; with Low Power Board; with one Proof of Closure Device; Electrical Connection via DIN Plug; IP65
VMM78-5NS00.PIO1
2½, 3″ ANSI
Fast Open/Fast Close
Slow Open/Fast Close
DIN Plug
120 V AC
7.25
Low Power Board; One Proof of Closure Device; IP65
7.25 PSI Models with DIN plug; LED to indicate power
Model and Description
Model
Connection
V1
V2
Electrical Connection
Mains Voltage
Max Pressure (PSI)
Features
Stock
Price
Cart
VMM20-5NF00.PT1
Double Safety Shut Off Valve (SSOV) for gas; 3/4" NPT Connection; V1 & V2: Fast Open/Fast Close; 120V; Max. Pressure: 7.25 PSI; with Low Power Board; with one Proof of Closure Device; Electrical Connection via DIN Plug; LED to indicate power
VMM20-5NF00.PT1
3/4″ NPT
Fast Open/Fast Close
Fast Open/Fast Close
DIN Plug
120 V AC
7.25
Low Power Board; one Proof of Closure Device; LED to indicate power
VMM20-5NF00.PT1O1
Double Safety Shut Off Valve (SSOV) for gas; 3/4" NPT Connection; V1 & V2: Fast Open/Fast Close; 120V; Max. Pressure: 7.25 PSI; with Low Power Board; with one Proof of Closure Device; Electrical Connection via DIN Plug; LED to indicate power; IP65
VMM20-5NF00.PT1O1
3/4″ NPT
Fast Open/Fast Close
Fast Open/Fast Close
DIN Plug
120 V AC
7.25
Low Power Board; one Proof of Closure Device; LED to indicate power; IP65
VMM20-5NF00.T1
Double Safety Shut Off Valve (SSOV) for gas; 3/4" NPT Connection; V1 & V2: Fast Open/Fast Close; 120V; Max. Pressure: 7.25 PSI; with Low Power Board; Electrical Connection via DIN Plug; LED to indicate power
VMM20-5NF00.T1
3/4″ NPT
Fast Open/Fast Close
Fast Open/Fast Close
DIN Plug
120 V AC
7.25
Low Power Board; LED to indicate power
VMM20-5NF00.T1O1
Double Safety Shut Off Valve (SSOV) for gas; 3/4" NPT Connection; V1 & V2: Fast Open/Fast Close; 120V; Max. Pressure: 7.25 PSI; with Low Power Board; Electrical Connection via DIN Plug; LED to indicate power; IP65
VMM20-5NF00.T1O1
3/4″ NPT
Fast Open/Fast Close
Fast Open/Fast Close
DIN Plug
120 V AC
7.25
Low Power Board; LED to indicate power; IP65
VMM20-5NS00.PT1
Double Safety Shut Off Valve (SSOV) for gas; 3/4" NPT Connection; V1: Fast Open/Fast Close; V2: Slow Open/Fast Close; 120V; Max. Pressure: 7.25 PSI; with Low Power Board; with one Proof of Closure Device; Electrical Connection via DIN Plug; LED to indicate power
VMM20-5NS00.PT1
3/4″ NPT
Fast Open/Fast Close
Slow Open/Fast Close
DIN Plug
120 V AC
7.25
Low Power Board; one Proof of Closure Device; LED to indicate power
VMM20-5NS00.PT1O1
Double Safety Shut Off Valve (SSOV) for gas; 3/4" NPT Connection; V1: Fast Open/Fast Close; V2: Slow Open/Fast Close; 120V; Max. Pressure: 7.25 PSI; with Low Power Board; with one Proof of Closure Device; Electrical Connection via DIN Plug; LED to indicate power; IP65
VMM20-5NS00.PT1O1
3/4″ NPT
Fast Open/Fast Close
Slow Open/Fast Close
DIN Plug
120 V AC
7.25
Low Power Board; one Proof of Closure Device; LED to indicate power; IP65
VMM20-5NS00.T1
Double Safety Shut Off Valve (SSOV) for gas; 3/4" NPT Connection; V1: Fast Open/Fast Close; V2: Slow Open/Fast Close; 120V; Max. Pressure: 7.25 PSI; with Low Power Board; Electrical Connection via DIN Plug; LED to indicate power
VMM20-5NS00.T1
3/4″ NPT
Fast Open/Fast Close
Slow Open/Fast Close
DIN Plug
120 V AC
7.25
Low Power Board; LED to indicate power
VMM20-5NS00.T1O1
Double Safety Shut Off Valve (SSOV) for gas; 3/4" NPT Connection; V1: Fast Open/Fast Close; V2: Slow Open/Fast Close; 120V; Max. Pressure: 7.25 PSI; with Low Power Board; Electrical Connection via DIN Plug; LED to indicate power; IP65
VMM20-5NS00.T1O1
3/4″ NPT
Fast Open/Fast Close
Slow Open/Fast Close
DIN Plug
120 V AC
7.25
Low Power Board; LED to indicate power; IP65
VMM25-5NF00.PT1
Double Safety Shut Off Valve (SSOV) for gas; 1" NPT Connection; V1 & V2: Fast Open/Fast Close; 120V; Max. Pressure: 7.25 PSI; with Low Power Board; with one Proof of Closure Device; Electrical Connection via DIN Plug; LED to indicate power
VMM25-5NF00.PT1
1″ NPT
Fast Open/Fast Close
Fast Open/Fast Close
DIN Plug
120 V AC
7.25
Low Power Board; one Proof of Closure Device; LED to indicate power
VMM25-5NF00.PT1O1
Double Safety Shut Off Valve (SSOV) for gas; 1" NPT Connection; V1 & V2: Fast Open/Fast Close; 120V; Max. Pressure: 7.25 PSI; with Low Power Board; with one Proof of Closure Device; Electrical Connection via DIN Plug; LED to indicate power; IP65
VMM25-5NF00.PT1O1
1″ NPT
Fast Open/Fast Close
Fast Open/Fast Close
DIN Plug
120 V AC
7.25
Low Power Board; one Proof of Closure Device; LED to indicate power; IP65
VMM25-5NF00.T1
Double Safety Shut Off Valve (SSOV) for gas; 1" NPT Connection; V1 & V2: Fast Open/Fast Close; 120V; Max. Pressure: 7.25 PSI; with Low Power Board; Electrical Connection via DIN Plug; LED to indicate power
VMM25-5NF00.T1
1″ NPT
Fast Open/Fast Close
Fast Open/Fast Close
DIN Plug
120 V AC
7.25
Low Power Board; LED to indicate power
VMM25-5NF00.T1O1
Double Safety Shut Off Valve (SSOV) for gas; 1" NPT Connection; V1 & V2: Fast Open/Fast Close; 120V; Max. Pressure: 7.25 PSI; with Low Power Board; Electrical Connection via DIN Plug; LED to indicate power; IP65
VMM25-5NF00.T1O1
1″ NPT
Fast Open/Fast Close
Fast Open/Fast Close
DIN Plug
120 V AC
7.25
Low Power Board; LED to indicate power; IP65
VMM25-5NS00.PT1
Double Safety Shut Off Valve (SSOV) for gas; 1" NPT Connection; V1: Fast Open/Fast Close; V2: Slow Open/Fast Close; 120V; Max. Pressure: 7.25 PSI; with Low Power Board; with one Proof of Closure Device; Electrical Connection via DIN Plug; LED to indicate power
VMM25-5NS00.PT1
1″ NPT
Fast Open/Fast Close
Slow Open/Fast Close
DIN Plug
120 V AC
7.25
Low Power Board; one Proof of Closure Device; LED to indicate power
VMM25-5NS00.PT1O1
Double Safety Shut Off Valve (SSOV) for gas; 1" NPT Connection; V1: Fast Open/Fast Close; V2: Slow Open/Fast Close; 120V; Max. Pressure: 7.25 PSI; with Low Power Board; with one Proof of Closure Device; Electrical Connection via DIN Plug; LED to indicate power; IP65
VMM25-5NS00.PT1O1
1″ NPT
Fast Open/Fast Close
Slow Open/Fast Close
DIN Plug
120 V AC
7.25
Low Power Board; one Proof of Closure Device; LED to indicate power; IP65
VMM25-5NS00.T1
Double Safety Shut Off Valve (SSOV) for gas; 1" NPT Connection; V1: Fast Open/Fast Close; V2: Slow Open/Fast Close; 120V; Max. Pressure: 7.25 PSI; with Low Power Board; Electrical Connection via DIN Plug; LED to indicate power
VMM25-5NS00.T1
1″ NPT
Fast Open/Fast Close
Slow Open/Fast Close
DIN Plug
120 V AC
7.25
Low Power Board; LED to indicate power
VMM25-5NS00.T1O1
Double Safety Shut Off Valve (SSOV) for gas; 1" NPT Connection; V1: Fast Open/Fast Close; V2: Slow Open/Fast Close; 120V; Max. Pressure: 7.25 PSI; with Low Power Board; Electrical Connection via DIN Plug; LED to indicate power; IP65
VMM25-5NS00.T1O1
1″ NPT
Fast Open/Fast Close
Slow Open/Fast Close
DIN Plug
120 V AC
7.25
Low Power Board; LED to indicate power; IP65
VMM32-5NF00.PT1
Double Safety Shut Off Valve (SSOV) for gas; 1¼" NPT Connection; V1 & V2: Fast Open/Fast Close; 120V; Max. Pressure: 7.25 PSI; with Low Power Board; with one Proof of Closure Device; Electrical Connection via DIN Plug; LED to indicate power
VMM32-5NF00.PT1
1¼″ NPT
Fast Open/Fast Close
Fast Open/Fast Close
DIN Plug
120 V AC
7.25
Low Power Board; one Proof of Closure Device; LED to indicate power
VMM32-5NF00.PT1O1
Double Safety Shut Off Valve (SSOV) for gas; 1-1/4" NPT Connection; V1 & V2: Fast Open/Fast Close; 120V; Max. Pressure: 7.25 PSI; with Low Power Board; with one Proof of Closure Device; Electrical Connection via DIN Plug; LED to indicate power; IP65
VMM32-5NF00.PT1O1
1¼″ NPT
Fast Open/Fast Close
Fast Open/Fast Close
DIN Plug
120 V AC
7.25
Low Power Board; one Proof of Closure Device; LED to indicate power; IP65
VMM32-5NF00.T1
Double Safety Shut Off Valve (SSOV) for gas; 1¼" NPT Connection; V1 & V2: Fast Open/Fast Close; 120V; Max. Pressure: 7.25 PSI; with Low Power Board; Electrical Connection via DIN Plug; LED to indicate power
VMM32-5NF00.T1
1¼″ NPT
Fast Open/Fast Close
Fast Open/Fast Close
DIN Plug
120 V AC
7.25
Low Power Board; LED to indicate power
VMM32-5NF00.T1O1
Double Safety Shut Off Valve (SSOV) for gas; 1¼" NPT Connection; V1 & V2: Fast Open/Fast Close; 120V; Max. Pressure: 7.25 PSI; with Low Power Board; Electrical Connection via DIN Plug; LED to indicate power
VMM32-5NF00.T1O1
1¼″ NPT
Fast Open/Fast Close
Fast Open/Fast Close
DIN Plug
120 V AC
7.25
Low Power Board; LED to indicate power; IP65
VMM32-5NS00.PT1
Double Safety Shut Off Valve (SSOV) for gas; 1¼" NPT Connection; V1: Fast Open/Fast Close; V2: Slow Open/Fast Close; 120V; Max. Pressure: 7.25 PSI; with Low Power Board; with one Proof of Closure Device; Electrical Connection via DIN Plug; LED to indicate power
VMM32-5NS00.PT1
1¼″ NPT
Fast Open/Fast Close
Slow Open/Fast Close
DIN Plug
120 V AC
7.25
Low Power Board; one Proof of Closure Device; LED to indicate power
VMM32-5NS00.PT1O1
Double Safety Shut Off Valve (SSOV) for gas; 1¼" NPT Connection; V1: Fast Open/Fast Close; V2: Slow Open/Fast Close; 120V; Max. Pressure: 7.25 PSI; with Low Power Board; with one Proof of Closure Device; Electrical Connection via DIN Plug; LED to indicate power; IP65
VMM32-5NS00.PT1O1
1¼″ NPT
Fast Open/Fast Close
Slow Open/Fast Close
DIN Plug
120 V AC
7.25
Low Power Board; one Proof of Closure Device; LED to indicate power; IP65
VMM32-5NS00.T1
Double Safety Shut Off Valve (SSOV) for gas; 1¼" NPT Connection; V1: Fast Open/Fast Close; V2: Slow Open/Fast Close; Max. Pressure: 7.25 PSI; with Low Power Board; Electrical Connection via DIN Plug; LED to indicate power
VMM32-5NS00.T1
1¼″ NPT
Fast Open/Fast Close
Slow Open/Fast Close
DIN Plug
120 V AC
7.25
Low Power Board; LED to indicate power
VMM32-5NS00.T1O1
Double Safety Shut Off Valve (SSOV) for gas; 1¼" NPT Connection; V1: Fast Open/Fast Close; V2: Slow Open/Fast Close; 120V; Max. Pressure: 7.25 PSI; with Low Power Board; Electrical Connection via DIN Plug; LED to indicate power; IP65
VMM32-5NS00.T1O1
1¼″ NPT
Fast Open/Fast Close
Slow Open/Fast Close
DIN Plug
120 V AC
7.25
Low Power Board; LED to indicate power; IP65
VMM40-5NF00.PT1
Double Safety Shut Off Valve (SSOV) for gas; 1½" NPT Connection; V1 & V2: Fast Open/Fast Close; 120V; Max. Pressure: 7.25 PSI; with Low Power Board; with one Proof of Closure Device; Electrical Connection via DIN Plug; LED to indicate power
VMM40-5NF00.PT1
1½″ NPT
Fast Open/Fast Close
Fast Open/Fast Close
DIN Plug
120 V AC
7.25
Low Power Board; one Proof of Closure Device; LED to indicate power
VMM40-5NF00.PT1O1
Double Safety Shut Off Valve (SSOV) for gas; 1½" NPT Connection; V1 & V2: Fast Open/Fast Close; 120V; Max. Pressure: 7.25 PSI; with Low Power Board; with one Proof of Closure Device; Electrical Connection via DIN Plug; LED to indicate power; IP65
VMM40-5NF00.PT1O1
1½″ NPT
Fast Open/Fast Close
Fast Open/Fast Close
DIN Plug
120 V AC
7.25
Low Power Board; one Proof of Closure Device; LED to indicate power; IP65
VMM40-5NF00.T1
Double Safety Shut Off Valve (SSOV) for gas; 1½" NPT Connection; V1 & V2: Fast Open/Fast Close; 120V; Max. Pressure: 7.25 PSI; with Low Power Board; Electrical Connection via DIN Plug; LED to indicate power
VMM40-5NF00.T1
1½″ NPT
Fast Open/Fast Close
Fast Open/Fast Close
DIN Plug
120 V AC
7.25
Low Power Board; LED to indicate power
VMM40-5NF00.T1O1
Double Safety Shut Off Valve (SSOV) for gas; 1½" NPT Connection; V1 & V2: Fast Open/Fast Close; 120V; Max. Pressure: 7.25 PSI; with Low Power Board; Electrical Connection via DIN Plug; LED to indicate power; IP65
VMM40-5NF00.T1O1
1½″ NPT
Fast Open/Fast Close
Fast Open/Fast Close
DIN Plug
120 V AC
7.25
Low Power Board; LED to indicate power; IP65
VMM40-5NS00.PT1
Double Safety Shut Off Valve (SSOV) for gas; 1½" NPT Connection; V1: Fast Open/Fast Close; V2: Slow Open/Fast Close; 120V; Max. Pressure: 7.25 PSI; with Low Power Board; with one Proof of Closure Device; Electrical Connection via DIN Plug; LED to indicate power
VMM40-5NS00.PT1
1½″ NPT
Fast Open/Fast Close
Slow Open/Fast Close
DIN Plug
120 V AC
7.25
Low Power Board; one Proof of Closure Device; LED to indicate power
VMM40-5NS00.PT1O1
Double Safety Shut Off Valve (SSOV) for gas; 1½" NPT Connection; V1: Fast Open/Fast Close; V2: Slow Open/Fast Close; 120V; Max. Pressure: 7.25 PSI; with Low Power Board; with one Proof of Closure Device; Electrical Connection via DIN Plug; LED to indicate power; IP65
VMM40-5NS00.PT1O1
1½″ NPT
Fast Open/Fast Close
Slow Open/Fast Close
DIN Plug
120 V AC
7.25
Low Power Board; one Proof of Closure Device; LED to indicate power; IP65
VMM40-5NS00.T1
Double Safety Shut Off Valve (SSOV) for gas; 1½" NPT Connection; V1: Fast Open/Fast Close; V2: Slow Open/Fast Close; 120V; Max. Pressure: 7.25 PSI; with Low Power Board; Electrical Connection via DIN Plug; LED to indicate power
VMM40-5NS00.T1
1½″ NPT
Fast Open/Fast Close
Slow Open/Fast Close
DIN Plug
120 V AC
7.25
Low Power Board; LED to indicate power
VMM40-5NS00.T1O1
Double Safety Shut Off Valve (SSOV) for gas; 1½" NPT Connection; V1: Fast Open/Fast Close; V2: Slow Open/Fast Close; 120V; Max. Pressure: 7.25 PSI; with Low Power Board; Electrical Connection via DIN Plug; LED to indicate power; IP65
VMM40-5NS00.T1O1
1½″ NPT
Fast Open/Fast Close
Slow Open/Fast Close
DIN Plug
120 V AC
7.25
Low Power Board; LED to indicate power; IP65
VMM50-5NF00.PT1
Double Safety Shut Off Valve (SSOV) for gas; 2" NPT Connection; V1 & V2: Fast Open/Fast Close; 120V; Max. Pressure: 7.25 PSI; with Low Power Board; with one Proof of Closure Device; Electrical Connection via DIN Plug; LED to indicate power
VMM50-5NF00.PT1
2″ NPT
Fast Open/Fast Close
Fast Open/Fast Close
DIN Plug
120 V AC
7.25
Low Power Board; one Proof of Closure Device; LED to indicate power
VMM50-5NF00.PT1O1
Double Safety Shut Off Valve (SSOV) for gas; 2" NPT Connection; V1 & V2: Fast Open/Fast Close; 120V; Max. Pressure: 7.25 PSI; with Low Power Board; with one Proof of Closure Device; Electrical Connection via DIN Plug; LED to indicate power; IP65
VMM50-5NF00.PT1O1
2″ NPT
Fast Open/Fast Close
Fast Open/Fast Close
DIN Plug
120 V AC
7.25
Low Power Board; one Proof of Closure Device; LED to indicate power; IP65
VMM50-5NF00.T1
Double Safety Shut Off Valve (SSOV) for gas; 2" NPT Connection; V1: Fast Open/Fast Close; V2: Fast Open/Fast Close; 120V; Max. Pressure: 7.25 PSI; with Low Power Board; Electrical Connection via DIN Plug; LED to indicate power
VMM50-5NF00.T1
2″ NPT
Fast Open/Fast Close
Fast Open/Fast Close
DIN Plug
120 V AC
7.25
Low Power Board; LED to indicate power
VMM50-5NF00.T1O1
Double Safety Shut Off Valve (SSOV) for gas; 2" NPT Connection; V1 & V2: Fast Open/Fast Close; 120V; Max. Pressure: 7.25 PSI; with Low Power Board; Electrical Connection via DIN Plug; LED to indicate power; IP65
VMM50-5NF00.T1O1
2″ NPT
Fast Open/Fast Close
Fast Open/Fast Close
DIN Plug
120 V AC
7.25
Low Power Board; LED to indicate power; IP65
VMM50-5NS00.PT1
Double Safety Shut Off Valve (SSOV) for gas; 2" NPT Connection; V1: Fast Open/Fast Close; V2: Slow Open/Fast Close; 120V; Max. Pressure: 7.25 PSI; with Low Power Board; with one Proof of Closure Device; Electrical Connection via DIN Plug; LED to indicate power
VMM50-5NS00.PT1
2″ NPT
Fast Open/Fast Close
Slow Open/Fast Close
DIN Plug
120 V AC
7.25
Low Power Board; one Proof of Closure Device; LED to indicate power
VMM50-5NS00.PT1O1
Double Safety Shut Off Valve (SSOV) for gas; 2" NPT Connection; V1: Fast Open/Fast Close; V2: Slow Open/Fast Close; 120V; Max. Pressure: 7.25 PSI; with Low Power Board; with one Proof of Closure Device; Electrical Connection via DIN Plug; LED to indicate power; IP65
VMM50-5NS00.PT1O1
2″ NPT
Fast Open/Fast Close
Slow Open/Fast Close
DIN Plug
120 V AC
7.25
Low Power Board; one Proof of Closure Device; LED to indicate power; IP65
VMM50-5NS00.T1
Double Safety Shut Off Valve (SSOV) for gas; 2" NPT Connection; V1: Fast Open/Fast Close; V2: Slow Open/Fast Close; 120V; Max. Pressure: 7.25 PSI; with Low Power Board; Electrical Connection via DIN Plug; LED to indicate power
VMM50-5NS00.T1
2″ NPT
Fast Open/Fast Close
Slow Open/Fast Close
DIN Plug
120 V AC
7.25
Low Power Board; LED to indicate power
VMM50-5NS00.T1O1
Double Safety Shut Off Valve (SSOV) for gas; 2" NPT Connection; V1 & V2: Slow Open/Fast Close; 120V; Max. Pressure: 7.25 PSI; with Low Power Board; Electrical Connection via DIN Plug; LED to indicate power; IP65
VMM50-5NS00.T1O1
2″ NPT
Slow Open/Fast Close
Slow Open/Fast Close
DIN Plug
120 V AC
7.25
Low Power Board; LED to indicate power; IP65
VMM50F-5NF00.PT1
Double Safety Shut Off Valve (SSOV) for gas; 2" ANSI Connection; V1 & V2: Fast Open/Fast Close; 120V; Max. Pressure: 7.25 PSI; with Low Power Board; with one Proof of Closure Device; Electrical Connection via DIN Plug; LED to indicate power
VMM50F-5NF00.PT1
2″ ANSI
Fast Open/Fast Close
Fast Open/Fast Close
DIN Plug
120 V AC
7.25
Low Power Board; one Proof of Closure Device; LED to indicate power
VMM50F-5NF00.PT1O1
Double Safety Shut Off Valve (SSOV) for gas; 2" ANSI Connection; V1 & V2: Fast Open/Fast Close; 120V; Max. Pressure: 7.25 PSI; with Low Power Board; with one Proof of Closure Device; Electrical Connection via DIN Plug; LED to indicate power; IP65
VMM50F-5NF00.PT1O1
2″ ANSI
Fast Open/Fast Close
Fast Open/Fast Close
DIN Plug
120 V AC
7.25
Low Power Board; one Proof of Closure Device; LED to indicate power; IP65
VMM50F-5NF00.T1
Double Safety Shut Off Valve (SSOV) for gas; 2" ANSI Connection; V1 & V2: Fast Open/Fast Close; 120V; Max. Pressure: 7.25 PSI; with Low Power Board; Electrical Connection via DIN Plug; LED to indicate power
VMM50F-5NF00.T1
2″ ANSI
Fast Open/Fast Close
Fast Open/Fast Close
DIN Plug
120 V AC
7.25
Low Power Board; LED to indicate power
VMM50F-5NF00.T1O1
Double Safety Shut Off Valve (SSOV) for gas; 2" ANSI Connection; V1 & V2: Fast Open/Fast Close; 120V; Max. Pressure: 7.25 PSI; with Low Power Board; Electrical Connection via DIN Plug; LED to indicate power; IP65
VMM50F-5NF00.T1O1
2″ ANSI
Fast Open/Fast Close
Fast Open/Fast Close
DIN Plug
120 V AC
7.25
Low Power Board; LED to indicate power; IP65
VMM50F-5NS00.PT1
Double Safety Shut Off Valve (SSOV) for gas; 2" ANSI Connection; V1: Fast Open/Fast Close; V2: Slow Open/Fast Close; 120V; Max. Pressure: 7.25 PSI; with Low Power Board; with one Proof of Closure Device; Electrical Connection via DIN Plug; LED to indicate power
VMM50F-5NS00.PT1
2″ ANSI
Fast Open/Fast Close
Slow Open/Fast Close
DIN Plug
120 V AC
7.25
Low Power Board; one Proof of Closure Device; LED to indicate power
VMM50F-5NS00.PT1O1
Double Safety Shut Off Valve (SSOV) for gas; 2" ANSI Connection; V1: Fast Open/Fast Close; V2: Slow Open/Fast Close; 120V; Max. Pressure: 7.25 PSI; with Low Power Board; with one Proof of Closure Device; Electrical Connection via DIN Plug; LED to indicate power; IP65
VMM50F-5NS00.PT1O1
2″ ANSI
Fast Open/Fast Close
Slow Open/Fast Close
DIN Plug
120 V AC
7.25
Low Power Board; one Proof of Closure Device; LED to indicate power; IP65
VMM50F-5NS00.T1
Double Safety Shut Off Valve (SSOV) for gas; 2" ANSI Connection; V1: Fast Open/Fast Close; V2: Slow Open/Fast Close; 120V; Max. Pressure: 7.25 PSI; with Low Power Board; Electrical Connection via DIN Plug; LED to indicate power
VMM50F-5NS00.T1
2″ ANSI
Fast Open/Fast Close
Slow Open/Fast Close
DIN Plug
120 V AC
7.25
Low Power Board; LED to indicate power
VMM50F-5NS00.T1O1
Double Safety Shut Off Valve (SSOV) for gas; 2" ANSI Connection; V1 & V2: Slow Open/Fast Close; 120V; Max. Pressure: 7.25 PSI; with Low Power Board; Electrical Connection via DIN Plug; LED to indicate power; IP65
VMM50F-5NS00.T1O1
2″ ANSI
Slow Open/Fast Close
Slow Open/Fast Close
DIN Plug
120 V AC
7.25
Low Power Board; LED to indicate power; IP65
VMM78-5NF00.PT1
Double Safety Shut Off Valve (SSOV) for gas; 2½, 3" ANSI Connection; V1 & V2: Fast Open/Fast Close; 120V; Max. Pressure: 7.25 PSI; with Low Power Board; with one Proof of Closure Device; Electrical Connection via DIN Plug; LED to indicate power
VMM78-5NF00.PT1
2½, 3″ ANSI
Fast Open/Fast Close
Fast Open/Fast Close
DIN Plug
120 V AC
7.25
Low Power Board; one Proof of Closure Device; LED to indicate power
VMM78-5NF00.PT1O1
Double Safety Shut Off Valve (SSOV) for gas; 2½, 3" ANSI Connection; V1 & V2: Fast Open/Fast Close; 120V; Max. Pressure: 7.25 PSI; with Low Power Board; with one Proof of Closure Device; Electrical Connection via DIN Plug; LED to indicate power; IP65
VMM78-5NF00.PT1O1
2½, 3″ ANSI
Fast Open/Fast Close
Fast Open/Fast Close
DIN Plug
120 V AC
7.25
Low Power Board; one Proof of Closure Device; LED to indicate power; IP65
VMM78-5NF00.T1
Double Safety Shut Off Valve (SSOV) for gas; 2½, 3" ANSI Connection; V1 & V2: Fast Open/Fast Close; 120V; Max. Pressure: 7.25 PSI; with Low Power Board; Electrical Connection via DIN Plug; LED to indicate power
VMM78-5NF00.T1
2½, 3″ ANSI
Fast Open/Fast Close
Fast Open/Fast Close
DIN Plug
120 V AC
7.25
Low Power Board; LED to indicate power
VMM78-5NF00.T1O1
Double Safety Shut Off Valve (SSOV) for gas; 2½, 3" ANSI Connection; V1 & V2: Fast Open/Fast Close; 120V; Max. Pressure: 7.25 PSI; with Low Power Board; Electrical Connection via DIN Plug; LED to indicate power; IP65
VMM78-5NF00.T1O1
2½, 3″ ANSI
Fast Open/Fast Close
Fast Open/Fast Close
DIN Plug
120 V AC
7.25
Low Power Board; LED to indicate power; IP65
VMM78-5NS00.PT1
Double Safety Shut Off Valve (SSOV) for gas; 2½, 3" ANSI Connection; V1: Fast Open/Fast Close; V2: Slow Open/Fast Close; 120V; Max. Pressure: 7.25 PSI; with Low Power Board; with one Proof of Closure Device; Electrical Connection via DIN Plug; LED to indicate power
VMM78-5NS00.PT1
2½, 3″ ANSI
Fast Open/Fast Close
Slow Open/Fast Close
DIN Plug
120 V AC
7.25
Low Power Board; one Proof of Closure Device; LED to indicate power
VMM78-5NS00.PT1O1
Double Safety Shut Off Valve (SSOV) for gas; 2½, 3" ANSI Connection; V1: Fast Open/Fast Close; V2: Slow Open/Fast Close; 120V; Max. Pressure: 7.25 PSI; with Low Power Board; with one Proof of Closure Device; Electrical Connection via DIN Plug; LED to indicate power; IP65
VMM78-5NS00.PT1O1
2½, 3″ ANSI
Fast Open/Fast Close
Slow Open/Fast Close
DIN Plug
120 V AC
7.25
Low Power Board; one Proof of Closure Device; LED to indicate power; IP65
VMM78-5NS00.T1
Double Safety Shut Off Valve (SSOV) for gas; 2½, 3" ANSI Connection; V1: Fast Open/Fast Close; V2: Slow Open/Fast Close; 120V; Max. Pressure: 7.25 PSI; with Low Power Board; Electrical Connection via DIN Plug; LED to indicate power
VMM78-5NS00.T1
2½, 3″ ANSI
Fast Open/Fast Close
Slow Open/Fast Close
DIN Plug
120 V AC
7.25
Low Power Board; LED to indicate power
VMM78-5NS00.T1O1
Double Safety Shut Off Valve (SSOV) for gas; 2½, 3" ANSI Connection; V1: Fast Open/Fast Close; V2: Slow Open/Fast Close; 120V; Max. Pressure: 7.25 PSI; with Low Power Board; Electrical Connection via DIN Plug; LED to indicate power; IP65
VMM78-5NS00.T1O1
2½, 3″ ANSI
Fast Open/Fast Close
Slow Open/Fast Close
DIN Plug
120 V AC
7.25
Low Power Board; LED to indicate power; IP65
NOTE: Models for max. 3 PSI, for IP65, for different voltages, for aggressive gas, and all other options outlined in the technical document are available upon request. Please contact us!
Description
Elektrogas solenoid valves for gas VMR..OTN, VMR, VML, and double solenoid valves VMM are designed for use as air or gas blocking and releasing controls (with one or two stage operation), required in gas power burners, atmospheric gas boilers, industrial kilns, and other gas consuming appliances.
Safety shut-off valves are normally closed, and open only when energized.
Accessories
Model and Description
Stock
Price
Cart
PG9-1/2NPT Adapter
1/2" Adapter for ISO plug to Elektrogas Valve. Learn more at FAQ: Adapting ISO Plugs to Elektrogas Valves.
TPN025
1/4" NPT test tap
VI3M
Visual indicator for use with VMM size 3/4—1"
VI4M
Visual indicator for use with VMM size 1-1/4—2"
VI8M
Visual indicator for use with VMM size 2-1/2—3"
POC-DIN
Spare 2-LED ISO plug for proof of closure device. Using a 2-LED plug ensures fulfillment of VI requirements.