Industrial Burner for Gas ZIO
Large capacity range up to 1000 kW
Maintenance-friendly thanks to modular design
Robust burner design
Direct or lance ignition
Control via ionization or UV sensor
Suitable for new systems and modernization of existing systems thanks to individual length adjustment
Air preheating to 450°C available as an option
Low polluting level thanks to optimized combustion
For installation as ceiling or side-wall burner thanks to arbitrary installation position
Can be combined with different combustion chamber shapes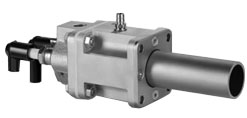 Learn More:
Description Documentation Ordering Information Accessories
Ordering Information
Ordering Information

Alternate Product

Model and
Description
Model
Burner Size
Flame Shape
Gas Type
Length of Burner Tube
Position of Burner Head
Burner Head ID
Construction Stage
Lead Time
Model
Lead Time
Order
ZIO 165RB-50/35-(17)D
Burner Size: 165; Flame shape: Normal; Gas Type: Natural Gas; Length of Burner Tube: 50; Position of Burner Head: 35; Burner Head ID: 17; Construction stage: D
ZIO 165RB-50/35-(17)D
165
Normal
Natural Gas
50
35
17
D
12-14 weeks
EMB
In Stock
Learn More
ZIO 165RB-150/135-(17)D
Burner Size: 165; Flame shape: Normal; Gas Type: Natural Gas; Length of Burner Tube: 150; Position of Burner Head: 135; Burner Head ID: 17; Construction stage: D
ZIO 165RB-150/135-(17)D
165
Normal
Natural Gas
150
135
17
D
12-14 weeks
EMB
In Stock
Learn More
ZIO 165RB-250/235-(17)D
Burner Size: 165; Flame shape: Normal; Gas Type: Natural Gas; Length of Burner Tube: 250; Position of Burner Head: 235; Burner Head ID: 17; Construction stage: D
ZIO 165RB-250/235-(17)D
165
Normal
Natural Gas
250
235
17
D
12-14 weeks
EMB
In Stock
Learn More
ZIO 165RB-350/335-(17)D
Burner Size: 165; Flame shape: Normal; Gas Type: Natural Gas; Length of Burner Tube: 350; Position of Burner Head: 335; Burner Head ID: 17; Construction stage: D
ZIO 165RB-350/335-(17)D
165
Normal
Natural Gas
350
335
17
D
12-14 weeks
EMB
In Stock
Learn More
ZIO 165RB-450/435-(17)D
Burner Size: 165; Flame shape: Normal; Gas Type: Natural Gas; Length of Burner Tube: 450; Position of Burner Head: 435; Burner Head ID: 17; Construction stage: D
ZIO 165RB-450/435-(17)D
165
Normal
Natural Gas
450
435
17
D
12-14 weeks
EMB
In Stock
Learn More
ZIO 165HB-100/35-(18)D
Burner Size: 165; Flame shape: Long; Gas Type: Natural Gas; Length of Burner Tube: 100; Position of Burner Head: 35; Burner Head ID: 18; Construction stage: D
ZIO 165HB-100/35-(18)D
165
Long
Natural Gas
100
35
18
D
12-14 weeks
EMB
In Stock
Learn More
ZIO 165HB-200/135-(18)D
Burner Size: 165; Flame shape: Long; Gas Type: Natural Gas; Length of Burner Tube: 200; Position of Burner Head: 135; Burner Head ID: 18; Construction stage: D
ZIO 165HB-200/135-(18)D
165
Long
Natural Gas
200
135
18
D
12-14 weeks
EMB
In Stock
Learn More
ZIO 165HB-300/235-(18)D
Burner Size: 165; Flame shape: Long; Gas Type: Natural Gas; Length of Burner Tube: 300; Position of Burner Head: 235; Burner Head ID: 18; Construction stage: D
ZIO 165HB-300/235-(18)D
165
Long
Natural Gas
300
235
18
D
12-14 weeks
EMB
In Stock
Learn More
ZIO 165HB-400/335-(18)D
Burner Size: 165; Flame shape: Long; Gas Type: Natural Gas; Length of Burner Tube: 400; Position of Burner Head: 335; Burner Head ID: 18; Construction stage: D
ZIO 165HB-400/335-(18)D
165
Long
Natural Gas
400
335
18
D
12-14 weeks
EMB
In Stock
Learn More
ZIO 165HB-500/435-(18)D
Burner Size: 165; Flame shape: Long; Gas Type: Natural Gas; Length of Burner Tube: 500; Position of Burner Head: 435; Burner Head ID: 18; Construction stage: D
ZIO 165HB-500/435-(18)D
165
Long
Natural Gas
500
435
18
D
12-14 weeks
EMB
In Stock
Learn More
ZIO 200RB-50/35-(20)D
Burner Size: 200; Flame shape: Normal; Gas Type: Natural Gas; Length of Burner Tube: 50; Position of Burner Head: 35; Burner Head ID: 20; Construction stage: D
ZIO 200RB-50/35-(20)D
200
Normal
Natural Gas
50
35
20
D
12-14 weeks
EMB
In Stock
Learn More
ZIO 200RB-150/135-(20)D
Burner Size: 200; Flame shape: Normal; Gas Type: Natural Gas; Length of Burner Tube: 150; Position of Burner Head: 135; Burner Head ID: 20; Construction stage: D
ZIO 200RB-150/135-(20)D
200
Normal
Natural Gas
150
135
20
D
12-14 weeks
EMB
In Stock
Learn More
ZIO 200RB-250/235-(20)D
Burner Size: 200; Flame shape: Normal; Gas Type: Natural Gas; Length of Burner Tube: 250; Position of Burner Head: 235; Burner Head ID: 20; Construction stage: D
ZIO 200RB-250/235-(20)D
200
Normal
Natural Gas
250
235
20
D
12-14 weeks
EMB
In Stock
Learn More
ZIO 200RB-350/335-(20)D
Burner Size: 200; Flame shape: Normal; Gas Type: Natural Gas; Length of Burner Tube: 350; Position of Burner Head: 335; Burner Head ID: 20; Construction stage: D
ZIO 200RB-350/335-(20)D
200
Normal
Natural Gas
350
335
20
D
12-14 weeks
EMB
In Stock
Learn More
ZIO 200RB-450/435-(20)D
Burner Size: 200; Flame shape: Normal; Gas Type: Natural Gas; Length of Burner Tube: 450; Position of Burner Head: 435; Burner Head ID: 20; Construction stage: D
ZIO 200RB-450/435-(20)D
200
Normal
Natural Gas
450
435
20
D
12-14 weeks
EMB
In Stock
Learn More
ZIO 200HB-100/35(21)D
Burner Size: 200; Flame shape: Long; Gas Type: Natural Gas; Length of Burner Tube: 100; Position of Burner Head: 35; Burner Head ID: 21; Construction stage: D
ZIO 200HB-100/35(21)D
200
Long
Natural Gas
100
35
21
D
12-14 weeks
EMB
In Stock
Learn More
ZIO 200HB-200/135-(21)D
Burner Size: 200; Flame shape: Long; Gas Type: Natural Gas; Length of Burner Tube: 200; Position of Burner Head: 135; Burner Head ID: 21; Construction stage: D
ZIO 200HB-200/135-(21)D
200
Long
Natural Gas
200
135
21
D
12-14 weeks
EMB
In Stock
Learn More
ZIO 200HB-300/235-(21)D
Burner Size: 200; Flame shape: Long; Gas Type: Natural Gas; Length of Burner Tube: 300; Position of Burner Head: 235; Burner Head ID: 21; Construction stage: D
ZIO 200HB-300/235-(21)D
200
Long
Natural Gas
300
235
21
D
12-14 weeks
EMB
In Stock
Learn More
ZIO 200HB-400/335-(21)D
Burner Size: 200; Flame shape: Long; Gas Type: Natural Gas; Length of Burner Tube: 400; Position of Burner Head: 335; Burner Head ID: 21; Construction stage: D
ZIO 200HB-400/335-(21)D
200
Long
Natural Gas
400
335
21
D
12-14 weeks
EMB
In Stock
Learn More
ZIO 200HB-500/435-(21)D
Burner Size: 200; Flame shape: Long; Gas Type: Natural Gas; Length of Burner Tube: 500; Position of Burner Head: 435; Burner Head ID: 21; Construction stage: D
ZIO 200HB-500/435-(21)D
200
Long
Natural Gas
500
435
21
D
12-14 weeks
EMB
In Stock
Learn More
For all other configurations and spare parts Contact Combustion 911
Description
The ZIO burner is designed for industrial furnaces and firing systems in the iron and steel industries in the precious, non-ferrous, and light metal sector, as well as in the plastics, fiber and paper industries. Other fields of application are thermal incineration installations, as well as dryers and hot-air generators.
For low temperature applications (e.g. for crucible heating, radiant tube heating or hot-air generation), the burners are equipped with a heat-resistant steel attachment tube.
For high temperature applications (e.g. forging furnace), the burners are used in combination with a burner quarl made from refractory concrete. Different flame shapes can be achieved by using burner quarls with a different geometry.
The burner can be adapted to the system requirements using different burner tube lengths.
Accessories
Model and Description
Price
Cart
Ignition Cable
Silicone Rubber Cable High Voltage 7mm (priced per foot).