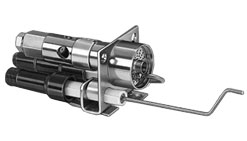 Ionization Pilot Burner ZAI TN
This item is not available for order online
Atmospheric pilot burner
Capacity: 3 kW (approx. 2500 kcal/h)
Direct ignition and ionization control
For natural gas and propane
*Standard delivery for orifice with Natural Gas installed. Follow installation instructions to install included LPG orifice.
The ionization pilot burner ZAI is for the safe ignition and flame protection of atmospheric burners in conjunction with automatic burner controls IFS and the PF-19 burner control system.
Applications
Click on images for close-up view.
Specifications
Types of Gas:
natural gas and propane; other gases on request
Max. ambient temperature:
500 °C
Gas connection:
Cu-tube 8 x 1
Protective grade:
IP 20
Construction:
Ignition head - steel, galvanized
Fixing plate - steel. galvanized
Ignition and ionization electrodes - Kanthal A-1
Plug connector for ignition electrode - brown (suppressed)
Plug connector for flame rectification electrode - black
Click Here for Help choosing which model you need.
(Click here to Close)
ZAI TN
Price:
Ionization Pilot Burner ZAI TN
ZAI ACC 01
Price:
Protective tube for ZAI, heat-resistant
ZAI ACC 02
Price:
Ionization Electrode, ZAI
ZAI ACC 03
Price:
Ignition Electrode, ZAI
Ignition Cable
Price:
Silicon Cable High Voltage 7mm (priced per foot).