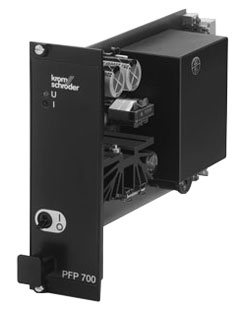 This item is not available for order online
Output voltage 24 V DC
Output load 14 VA
Short-circuit-proof
LED indication
FM approved
Description
The PFP 700 power supply is used to supply control inputs on the burner control unit or to provide auxiliary power to relay cards.
The operating status is displayed on the front panel (green LED). In the event of an overload at output I > 600 mA the red LED comes on, the green LED goes out and the PFP 700 switches off the output.
Applications
Click on images for close-up view.
| | |
| --- | --- |
| | The operating status is displayed on the front panel (green LED). In the event of an overload at output I > 600 mA the red LED comes on, the green LED goes out and the PFP 700 switches off the output. |
Specifications
Power consumption:
25 VA
Output load:
24V DC, 600 mA, short-circuit-proof.
Fine-wire fuse 0.37A, slow blowing, acc. to UL.
Weight:
approx. 1.7 lbs (0.75 kg)
Jump to PF-19 Module page