Gas/Air Ratio Regulator GIK
For maintaining constant gas/air ratios
Cross-connected operation with modulating or high-low control of nozzle mix burners
Zero regulator operation for premix burners
Precise pressure regulation over wide turndown ranges
Low maintenance
Valve seat design for consistent low-fire repeatability
Balanced double diaphragm design allows regulator to operate over a wide range of inlet pressures while minimally affecting outlet pressure
CE certified models available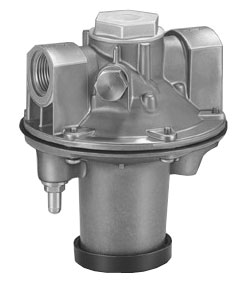 Learn More:
Description Documentation Ordering Information Accessories
Ordering Information

Alternate Product

Model and Description
Model
Connection
Max Inlet pressure
Pressure Test point
Bypass Screw
Lead Time
Model
Lead Time
Order
GIK 15TN02-5
Connection: ½″ NPT internal thread; Max Inlet pressure: 3 psig (200 mbar); Pressure Test point: In Outlet; Bypass Screw: No
GIK 15TN02-5
½″ NPT internal thread
3 psig (200 mbar)
In Outlet
No
12-14 weeks
GIK 20TN02-5
Connection: ¾″ NPT internal thread; Max Inlet pressure: 3 psig (200 mbar); Pressure Test point: In Outlet; Bypass Screw: No
GIK 20TN02-5
¾″ NPT internal thread
3 psig (200 mbar)
In Outlet
No
12-14 weeks
RAG2N
Learn More
GIK 25TN02-5
Connection: 1″ NPT internal thread NPT internal thread; Max Inlet pressure: 3 psig (200 mbar); Pressure Test point: In Outlet; Bypass Screw: No
GIK 25TN02-5
1″ NPT internal thread
3 psig (200 mbar)
In Outlet
No
12-14 weeks
RAG3N
Learn More
GIK 40TN02-5
Connection: 1½″ NPT internal thread NPT internal thread; Max Inlet pressure: 3 psig (200 mbar); Pressure Test point: In Outlet; Bypass Screw: No
GIK 40TN02-5
1½″ NPT internal thread
3 psig (200 mbar)
In Outlet
No
12-14 weeks
RAG4N
Learn More
GIK 50TN02-5
Connection: 2″ NPT internal thread NPT internal thread; Max Inlet pressure: 3 psig (200 mbar); Pressure Test point: In Outlet; Bypass Screw: No
GIK 50TN02-5
2″ NPT internal thread
3 psig (200 mbar)
In Outlet
No
12-14 weeks
RAG6N
Learn More
GIK 65TA02-3
Connection: 2½″ ANSI flange; Max Inlet pressure: 3 psig (200 mbar); Pressure Test point: In Inlet and Outlet; Bypass Screw: No
GIK 65TA02-3
2½″ ANSI flange
3 psig (200 mbar)
In Inlet and Outlet
No
12-14 weeks
GIK 80TA02-3
Connection: 3″ ANSI flange; Max Inlet pressure: 3 psig (200 mbar); Pressure Test point: In Inlet and Outlet; Bypass Screw: No
GIK 80TA02-3
3″ ANSI flange
3 psig (200 mbar)
In Inlet and Outlet
No
12-14 weeks
GIK 100TA02-3
Connection: 4″ ANSI flange; Max Inlet pressure: 3 psig (200 mbar); Pressure Test point: In Inlet and Outlet; Bypass Screw: No
GIK 100TA02-3
4″ ANSI flange
3 psig (200 mbar)
In Inlet and Outlet
No
12-14 weeks
GIK 15TN02-5B
Connection: ½″ NPT internal thread; Max Inlet pressure: 3 psig (200 mbar); Pressure Test point: In Outlet; Bypass Screw: Yes
GIK 15TN02-5B
½″ NPT internal thread
3 psig (200 mbar)
In Outlet
Yes
12-14 weeks
GIK 20TN02-5B
Connection: ¾″ NPT internal thread; Max Inlet pressure: 3 psig (200 mbar); Pressure Test point: In Outlet; Bypass Screw: Yes
GIK 20TN02-5B
¾″ NPT internal thread
3 psig (200 mbar)
In Outlet
Yes
12-14 weeks
RAG2N
Learn More
GIK 25TN02-5B
Connection: 1″ NPT internal thread; Max Inlet pressure: 3 psig (200 mbar); Pressure Test point: In Outlet; Bypass Screw: Yes
GIK 25TN02-5B
1″ NPT internal thread
3 psig (200 mbar)
In Outlet
Yes
12-14 weeks
RAG3N
Learn More
GIK 40TN02-5B
Connection: 1½″ NPT internal thread; Max Inlet pressure: 3 psig (200 mbar); Pressure Test point: In Outlet; Bypass Screw: Yes
GIK 40TN02-5B
1½″ NPT internal thread
3 psig (200 mbar)
In Outlet
Yes
12-14 weeks
RAG4N
Learn More
GIK 50TN02-5B
Connection: 2″ NPT internal thread; Max Inlet pressure: 3 psig (200 mbar); Pressure Test point: In Outlet; Bypass Screw: Yes
GIK 50TN02-5B
2″ NPT internal thread
3 psig (200 mbar)
In Outlet
Yes
12-14 weeks
RAG6N
Learn More
For all other configurations Contact Combustion 911
Description
GIK regulators hold constant gas/air ratios on nozzle mix and premix burner systems. They are designed and built with precise internal tolerances, and they provide highly accurate, repeatable pressure tracking over the turndown range of the burner system. They are suitable for natural, LP, and clean, dry bio-gas. Special GIK models are available for controlling air pressure.
Accessories
Model and Description
Price
Cart

GIK ACC 01


Variable Bypass GIK for models 15-25 (not available for 40 and 50)
Contact Us
Not available for online purchase.