Flame Relay PFF 704
For flame detection
For multi-burner control
Flame monitoring with flame rod or UV detector
Four independent flame amplifiers
Single-electrode operation possible
FM approved
Learn More:
Description Documentation Applications Specifications
Description
The PFF 704 Flame Relay is designed to detect and signal an existing gas flame using flame rod or UV detector. For use with multi-burner control on burner control units PFU 760 or where automatic monitoring is not required.
The PFF 704 has four independent flame amplifiers. When a flame is present the amplifier energizes a relay. The contacts of this relay can be used for control functions.
Applications
(click on image for close-up view)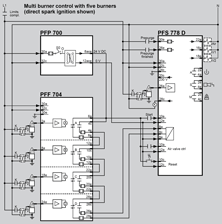 Multi-burner control involves the joint control of several burners.
One burner control unit is responsible for the entire control function and also monitors the first burner. Flame relays monitor the other burners in this group. If a flame monitored by the PFF 704 goes out during operation, a signal to the automatic control is interrupted and all other burners are switched off immediately. If an outside light is detected before the ignition (no flame check), the system goes to lockout. The drawing shows an example with flame rod. UV monitoring or single-electrode operation is also possible.
Specifications
| | |
| --- | --- |
| Power consumption: | 10 VA |
| Ionization voltage: | 230 V AC |
| Max. length of flame signal cable: | 300 ft (100m) |
| Cut-off sensitivity of flame amplifier: | 1 μA - 10 μA (set at factory at 1 μA) Fine-wire fuse 2.8 A, fast blowing, acc. to UL. |
| Weight: | approx. 1.1 lbs (0.51 kg). |