Actuator IC 20
IC 20 for basic applications with continuous or three-point step control and automatic/manual mode changeover for easy commissioning
IC 20..E with electronic positioning function and adjustable behavior in the event of cable break
IC 40 for complex applications with programmable functions for flexible adjustment to the process, with statistics and error history to support service personnel
A position indicator that can be read externally
Spacious connection chamber for ease of installation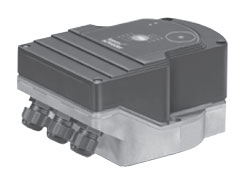 Learn More:
Description Documentation Ordering Information Accessories
Ordering Information

Alternate Product

Model and
Description
Model
Running Time
Mains Voltage
Torque
Continuous control
Lead Time
Model
Stock
Price
Order
IC 20-15W3T
Running time: 15 seconds; Mains voltage: 230 V AC, -15/+10% 50/60 Hz; Torque: 3.0Nm
IC 20-15W3T
15 seconds
230 V AC, -15/+10%
50/60 Hz
3.0 Nm
No
12-14 weeks
MZ3.A
IC 20-07Q2T
Running time: 7.5 seconds; Mains voltage: 120 V AC, -15/+10% 50/60 Hz; Torque: 2.5Nm
IC 20-07Q2T
7.5 seconds
120 V AC, -15/+10%
50/60 Hz
2.5 Nm
No
12-14 weeks
MZ3.B
In Stock
Learn More
IC 20-15Q3T
Running time: 15 seconds; Mains voltage: 120 V AC, -15/+10% 50/60 Hz; Torque: 3.0Nm
IC 20-15Q3T
15 seconds
120 V AC, -15/+10%
50/60 Hz
3.0 Nm
No
12-14 weeks
MZ3.B
In Stock
Learn More
IC 20-30Q3T
Running time: 30 seconds; Mains voltage: 120 V AC, -15/+10% 50/60 Hz; Torque: 3.0Nm
IC 20-30Q3T
30 seconds
120 V AC, -15/+10%
50/60 Hz
3.0 Nm
No
12-14 weeks
MZ3.B
In Stock
Learn More
IC 20-60Q3T
Running time: 60 seconds; Mains voltage: 120 V AC, -15/+10% 50/60 Hz; Torque: 3.0Nm
IC 20-60Q3T
60 seconds
120 V AC, -15/+10%
50/60 Hz
3.0 Nm
No
12-14 weeks
MZ3.B
In Stock
Learn More
IC 20-30W3E
Running time: 30 seconds; Mains voltage: 230 V AC, -15/+10% 50/60 Hz; Torque: 3.0Nm; Continuous control: 0 (4) – 20 mA, 0 – 10 V
IC 20-30W3E
30 seconds
230 V AC, -15/+10%
50/60 Hz
3.0 Nm
0 (4) – 20 mA, 0 – 10 V
12-14 weeks
MZ5
In Stock
Learn More
IC 20-15Q3E
Running time: 15 seconds; Mains voltage: 120 V AC, -15/+10% 50/60 Hz; Torque: 3.0Nm; Continuous control: 0 (4) – 20 mA, 0 – 10 V
IC 20-15Q3E
15 seconds
120 V AC, -15/+10%
50/60 Hz
3.0 Nm
0 (4) – 20 mA, 0 – 10 V
12-14 weeks
MZ5
In Stock
Learn More
IC 20-30Q3E
Running time: 30 seconds; Mains voltage: 120 V AC, -15/+10% 50/60 Hz; Torque: 3.0Nm; Continuous control: 0 (4) – 20 mA, 0 – 10 V
IC 20-30Q3E
30 seconds
120 V AC, -15/+10%
50/60 Hz
3.0 Nm
0 (4) – 20 mA, 0 – 10 V
12-14 weeks
MZ5
In Stock
Learn More
IC 20-60Q3E
Running time: 60 seconds; Mains voltage: 120 V AC, -15/+10% 50/60 Hz; Torque: 3.0Nm; Continuous control: 0 (4) – 20 mA, 0 – 10 V
IC 20-60Q3E
60 seconds
120 V AC, -15/+10%
50/60 Hz
3.0 Nm
0 (4) – 20 mA, 0 – 10 V
12-14 weeks
MZ5
In Stock
Learn More
For all other configurations Contact Combustion 911
Description
The Kromschroder actuators IC 20 and IC 40 are for all applications that require precise, controlled rotary movement between 0° and 90°. They can be mounted directly onto butterfly valve BVG or butterfly valve BVH to control gas and air flow rates on gas burners. They are designed for control ratios up to 1:10.
An optional integrated feedback potentiometer offers the option of monitoring the current position of the actuator. This scan function can be used in automation processes.
IC 20 is used for basic applications. It is controlled by a continuous signal or three-point step signal. The automatic/manual mode changeover and the position indicator that can be read externally assist in the setting of the infinitely adjustable switching cams upon commissioning. This enables precise settings even in the low-fire rate range.
Accessories
Model and Description
Price
Cart

IC-20/40 ACC 01


Fastening set IC-BVG/BVA/BVH/LFC /B
Contact Us
Not available for online purchase.

IC-20/40 ACC 02


Attachment set IC 20/IC 40 single application /B
Contact Us
Not available for online purchase.
For all other accessories Contact Combustion 911