Ignition Cable (per foot)
Silicone Rubber Jacketed High Voltage Ignition Cable
High voltage 10 KVAC, 25 KVDC
7mm OD
16 AWG
Priced per foot
-112°F(-80°C) — 482°F (+250°C)
Documentation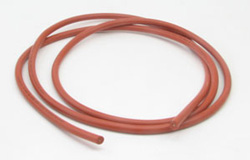 The only ignition cable you should be using for your combustion application
It's way too easy to buy the wrong ignition cable. Many industrial burners use ignition electrodes that look a lot like spark plugs, or which have spark plug ends. This calls to mind the spark plugs used in automobiles, and this makes sense; after all, cars use internal combustion engines.
An internet search on "ignition cable" or "spark plug wire" is likely to turn up a million results from auto bloggers and auto parts stores. There are many different kinds of automotive spark plug wire from as many manufacturers. Beware! The ignition wire used in your car is not suitable for use on your industrial burner.
EPDM can't take the heat. Many automotive spark plug wires use an EPDM (Ethylene Propylene Diene Monomer) jacket, and this means their maximum temperature is 266°F (130°C). High temperature silicone rubber is rated for nearly twice this value, at 482°F (250°C). This temperature rating can be crucial for the long life of your ignition cable in an industrial combustion application.
If the cable doesn't fit, get rid of it. Your ignition cable must fit inside the electrode adapter (AKA electrode boot, plug cap, etc.) that interfaces with the burner. It also must fit inside the ignition transformer's interface. This means you need a cable which has a 7mm OD. Cable with a smaller OD makes it hard to ensure a good connection. Cable with a larger OD just won't fit.
You want cable that strands out. The mechanisms employed by electrode adapters and ignition transformers to connect to and grip ignition cable depend on a stranded wire. A solid core wire will not allow you to achieve a suitable connection to either the electrode adapter or the ignition transformer.
In the end, it's an easy choice. The ignition cable listed on Combustion 911 is made for burner ignition systems. It's time-tested with burners from Kromschröder, Eclipse, Hauck, Fives North American Manufacturing, and others. It's inexpensive. And it's available for shipment today.
Learn how to connect the Ignition Cable: