Industrial Gas Ignition Transformer TAR-10
Primary voltage: 115 / 230V
Primary frequency: 50 / 60Hz
Primary current: 2/1A
Secondary voltage: 1 x 8KV
Secondary current: 20mA
Power consumption: 220VA
Duty cycle over 3 min. ED: 19% Ta ≤ 35°C
Mass: 1.3 kg (2.9 lbs)
Protection degree: IP20
Power cable length: 18 cm
Ignition cable connection: self-threading
Ignition cable type: silicon (external diameter = 7 mm)
Recommended Ignition cable length: 1 m (max. 5 m)
Working temperature: -20÷60 °C
Transformer use: ignition and detection
Mounting position: any
Transformer type: winding
Distance between ignition electrode terminal and burner mass: 3 mm ± 0.5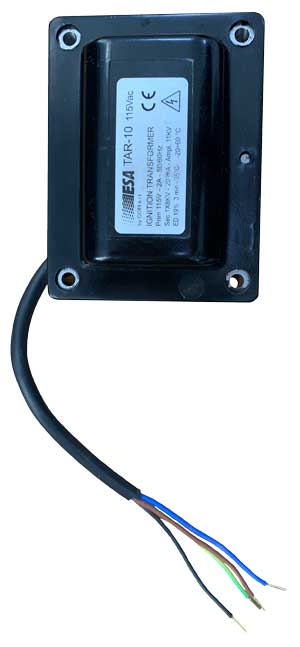 Learn More:
Description Documentation Ordering Information Accessories
Ordering Information

Alternate Product

Model and Description
Model
Primary
Secondary
mA
VA
IP Rating
Stock
Price
Cart
Model
Inventory
Price
Order
TAR-10 115V 50/60Hz
Primary: 115V 50/60Hz; Secondary: 8 KV; mA: 20; VA: 220; IP Rating: 20
TAR-10 115V 50/60Hz
115V 50/60Hz
8 KV
20
220
20
TRE820PISO1
TAR-10 230V 50/60Hz
Primary: 230V 50/60Hz; Secondary: 8 KV; mA: 20; VA: 220; IP Rating: 20
TAR-10 230V 50/60Hz
230V 50/60Hz
8 KV
20
220
20
TRAFO-TAR-10 115V 50/60Hz
Primary: 115V 50/60Hz; Secondary: 8 KV; mA: 20; VA: 220; IP Rating: 54
TRAFO-TAR-10 115V 50/60Hz
115V 50/60Hz
8 KV
20
220
54
TRAFO-TAR-10 230V 50/60Hz
Primary: 230V 50/60Hz; Secondary: 8 KV; mA: 20; VA: 220; IP Rating: 54
TRAFO-TAR-10 230V 50/60Hz
230V 50/60Hz
8 KV
20
220
54
Description
TAR-10 ignition transformers are designed to provide a high-energy ignition spark for industrial burners. They can be used in systems which have UV sensors or a second electrode for flame detection. They can also be used in systems where a single electrode rod performs both the ignition and flame sensing duties (spark-and-sense).
The TAR-10 ignition transformer can be used with all types of flame control devices and on all types and shapes of electrodes. You can use only one electrode for burner ignition and subsequent flame signal detection.
The connection between the ignition transformer and the burner electrode must be made with specific ignition cable. Silicon-jacketed ignition cable with 7 mm outside diameter is required. The ignition cable offered in the Accessories table meets these requirements.
If greater protection of the ignition transformer is required, the TRAFO enclosure is available with TAR-10 mounted inside. TRAFO is rated IP 54.
Note: The TAR-10 transformer replaces discontinued models, series: TAR-2/4/6/7/8.
Applications:
Electric ignition for gas burners
Electric ignition for diesel burners
Electric ignition for oil burners
Ignition and flame detection with single electrode (spark-and-sense)
Accessories
Model and Description
Price
Cart
Ignition Cable
Silicone Rubber Cable High Voltage 7mm (priced per foot).