Industrial Burner for Gas ZIC
Lightweight modular construction
Medium and high velocity discharge
Direct spark ignition
Capacities from 51,000 BTU/Hr to 3,000,000 BTU/Hr
Application temperature in excess of 2650°F (1400°C)
Complete with ignition electrode and ionization electrode
Built in limiting orifice valve and gas metering orifice
Low NOX production
Available for firing natural gas, LPG, butane/propane and other gases on request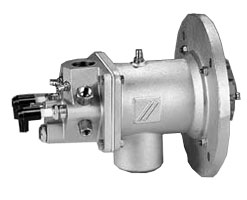 Learn More:
Description Documentation Ordering Information Accessories
Ordering Information

Alternate Product

Model and
Description
Model
Burner Size
Flame Shape
Gas Type
Length of Steel Extension
Position of Burner Head
Burner Head ID
Construction Stage
Lead Time
Model
Lead Time
Order
ZIC 165RB-0/235-(17)D
Burner Size: 165; Flame shape: Normal; Gas Type: Natural Gas; Length of Steel Extension: 0; Position of Burner Head: 235; Burner Head ID: 17; Construction stage: D
ZIC 165RB-0/235-(17)D
165
Normal
Natural Gas
0
235
17
D
12-14 weeks
EMB-SIK
In Stock
Learn More
ZIC 165RB-0/335-(17)D
Burner Size: 165; Flame shape: Normal; Gas Type: Natural Gas; Length of Steel Extension: 0; Position of Burner Head: 335; Burner Head ID: 17; Construction stage: D
ZIC 165RB-0/335-(17)D
165
Normal
Natural Gas
0
335
17
D
12-14 weeks
EMB-SIK
In Stock
Learn More
ZIC 200RB-0/235-(20)D
Burner Size: 200; Flame shape: Normal; Gas Type: Natural Gas; Length of Steel Extension: 0; Position of Burner Head: 235; Burner Head ID: 20; Construction stage: D
ZIC 200RB-0/235-(20)D
200
Normal
Natural Gas
0
235
20
D
12-14 weeks
EMB-SIK
In Stock
Learn More
ZIC 200RB-0/335-(20)D
Burner Size: 200; Flame shape: Normal; Gas Type: Natural Gas; Length of Steel Extension: 0; Position of Burner Head: 335; Burner Head ID: 20; Construction stage: D
ZIC 200RB-0/335-(20)D
200
Normal
Natural Gas
0
335
20
D
12-14 weeks
EMB-SIK
In Stock
Learn More
For all other configurations and spare parts Contact Combustion 911
Description
The ZIC and BIC burners are suitable for use on gas-fired industrial furnaces, ceramic kilns, and ovens. Both are appropriate in the iron and steel, non-ferrous metals, precious metals, ceramic, glass, and food industries. The BIC and ZIC burners use a lightweight tube manufactured from a high quality SiC silicone carbide. The silicone carbide tube is well-suited for installations using ceramic fiber insulation and brick linings.
Accessories
Model and Description
Price
Cart
Ignition Cable
Silicone Rubber Cable High Voltage 7mm (priced per foot).