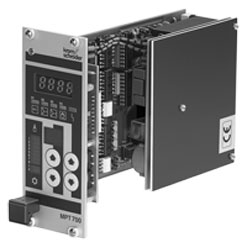 Impulse System MPT 700
Price:
Energy saving
Reduced pollutant emissions
Single or two-zone operation
For continuous controllers, three-point step controllers or manual operation
Linear ratio between controller signal and burner capacity
High operating convenience
Complies with the Low-Voltage Directive 73/23/EEC and the EMC Directive 89/336/EEC
Description
This 19″ module converts a controller signal to pulse cycles for gas burners. This intermittent operation circulates the air in the oven or kiln to achieve uniform temperature distribution and a shorter heat-up time on gas-fired heat treatment ovens.
Eight different operating modes can be programmed on the MPT 700. For instance, it is possible to increase temperature accuracy and achieve controlled cooling via the air valves in heating and cooling mode. The pollutant emissions are reduced by optimum burner operation On/Off or High/Low. The impulse system can control one or two zones with up to eight outputs. One or more burners can be connected per output.
Applications
Click on images for close-up view.
The MPT 700 controls the automatic burner control units PFU 760 or PFU 780 with 24 V signals. Automatic burner control units IFS or BCU can also be controlled with mains voltage with the aid of coupling relays.
Heating On/Off

The MPT 700 operates in "Heating" mode. It cyclically switches the ϑ inputs of the automatic burner control units and thus switches the burners on and off.
Heating High/Low

The MPT 700 operates in "Heating" mode. All burners are started centrally via the ϑ input and they burn at min. flow. The MPT 700 controls the air valve inputs and thus switches over to high fire individually for each burner.
Heating and Cooling On/Off

The MPT 700 operates in "Heating and Cooling" mode. A relay determining whether the ϑ input or air valve input of the automatic burner control unit is controlled cyclically is connected to output H/K 1. For heating (= 1), the burners are switched on and off via the ϑ input. For cooling (= 0), only the air valves are switched cyclically with burners switched off.
Specifications
Operating voltage:
110-240VAC, -15/+10%, 50/60Hz
Power required:
10VA, max. 250mA
Control voltage:
12-24VDC±10%, max. 1.1A
CE conformity:
EN 50081-1:1992
EN 61000-6-2:1999
Inputs:
2x 0/4-20mA with common ground, potential-free
load approx. 200 Ohm

1x three-point step control input, potential-free1 12-24VDC, load approx. 2700 Ohm

4x binary inputs, common ground, potential-free 12-24VDC, load approx. 2700 Ohm
Outputs:
12-24VDC±10%, max. 100mA per channel positive logic : switched +12-24VDC: 10 open emitter outputs
Electr. connection:
48-pin contactor, Type F, DIN 41612
Design:
open unit
European standard size, 100 x 160mm
with 50.8 x 128.5 front panel (3 HE, 10 TE)
Working temperatures:
0 to +60°C
Storage temperature:
-25 to +60°C
Relative humidity:
0 to 80%, no condensation
Weight:
approx. 500g
Jump to PF-19 Module page
Latest Blog Post
Use the ZI-808 From the Internet


One of the most exciting features of the ZI-808 is its built-in web server. Its user interface is designed like a standard web page and embedded into the instrument. That means that any device that can open a web page can use it. Desktop, laptop, tablet, smart phone, Android, Windows, iOS, Linux, Edge, IE, Chrome, Firefox. read full post