Flex Connectors
Fault-free machine operation due to absorption of thermal and pressure expansions
Low fixed point stress due to small bellows external diameter
Corrosion-resistant material requiring little servicing
Compensation for installation tolerances due to optional lengths
Reduces structure-borne noise thus improving operating noise levels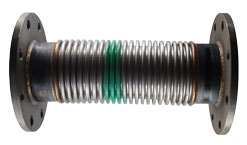 Learn More:
Description Documentation Ordering Information
Ordering Information
Model and Description
Model
Total Length*
Flexible Length*
Diameter*
Connection
Working Pressure
Female FNPT Ports
Price
Cart
BC-15
Length: 7"; Flex length: 4"; Diameter: ½"; Connection: NPT; Working Pressure: 80PSI; No Female FNPT ports.
BC-15
7
4
½
NPT
80
N/A
Contact Us
BC-20
Length: 7"; Flex length: 4"; Diameter: ¾"; Connection: NPT; Working Pressure: 70PSI; No Female FNPT ports.
BC-20
7
4
¾
NPT
70
N/A
Contact Us
BC-25
Length: 8"; Flex length: 5"; Diameter: 1"; Connection: NPT; Working Pressure: 40PSI; No Female FNPT ports.
BC-25
8
5
1
NPT
40
N/A
Contact Us
BC-32
Length: 9"; Flex length: 5"; Diameter: 1¼"; Connection: NPT; Working Pressure: 25PSI; No Female FNPT ports.
BC-32
9
5
1¼
NPT
25
N/A
Contact Us
BC-40
Length: 12"; Flex length: 7"; Diameter: 1½" Connection: NPT; Working Pressure: 20PSI; No Female FNPT ports.
BC-40
12
7
1½
NPT
20
N/A
Contact Us
BC-50
Length: 12"; Flex length: 7"; Diameter: 2"; Connection: NPT; Working Pressure: 15PSI; No Female FNPT ports.
BC-50
12
7
2
NPT
15
N/A
Contact Us
BC-65
Length: 16"; Flex length: 10"; Diameter: 2½"; Connection: NPT; Working Pressure: 12PSI; No Female FNPT ports.
BC-65
16
10
2½
NPT
12
N/A
Contact Us
BC-80
Length: 16"; Flex length: 10"; Diameter: 3"; Connection: NPT; Working Pressure: 10PSI; No Female FNPT ports.
BC-80
16
10
3
NPT
10
N/A
Contact Us
FBC-65
Length: 13"; Flex length: 10"; Diameter: 2½"; Connection: ANSI Flange; Working Pressure: 15PSI; No Female FNPT ports.
FBC-65
13
10
2½
ANSI Flange
15
N/A
Contact Us
FBC-80
Length: 13"; Flex length: 10"; Diameter: 3"; Connection: ANSI Flange; Working Pressure: 10PSI; No Female FNPT ports.
FBC-80
13
10
3
ANSI Flange
10
N/A
Contact Us
FBC-100
Length: 15"; Flex length: 11½"; Diameter: 4"; Connection: ANSI Flange; Working Pressure: 8PSI; No Female FNPT ports.
FBC-100
15
11½
4
ANSI Flange
8
N/A
Contact Us
FBC-150
Length: 17"; Flex length: 12"; Diameter: 6"; Connection: ANSI Flange; Working Pressure: 5PSI; No Female FNPT ports.
FBC-150
17
12
6
ANSI Flange
5
N/A
Contact Us
FBC-80/03
Length: 13"; Flex length: 8"; Diameter: 3"; Connection: ANSI Flange; Working Pressure: 10PSI; One female ⅛″ coupling
FBC-80/03
13
8
3
ANSI Flange
10
One ⅛″ coupling
Contact Us
FBC-80/06
Length: 13"; Flex length: 8"; Diameter: 3"; Connection: ANSI Flange; Working Pressure: 10PSI; One female ¼″ coupling
FBC-80/06
13
8
3
ANSI Flange
10
One ¼″ coupling
Contact Us
FBC-80/06/03
Length: 13"; Flex length: 8"; Diameter: 3"; Connection: ANSI Flange; Working Pressure: 10PSI; One ⅛″ coupling and One ¼″ coupling
FBC-80/06/03
13
8
3
ANSI Flange
10
One ⅛″ coupling and One ¼″ coupling
Contact Us
* Dimensions in inches.
For other sizes and configurations please Contact Combustion 911
Description

When furnaces get hot, they need to stretch out (since hot metal expands). While the furnace grows, the pipework attached to the furnace does not. This is because the pipework has gas (and air) flowing at a constant temperature. The result? If you don't have flex couplings on your pipe, the pipe is forced to bend and stretch. Over time this leads to leaking pipes - and leaking pipes rob your process of the energy it needs. In severe cases, an unsafe condition results due to gas leaks!
Avoid this problem by installing flex connectors at every burner on your furnace. NFPA 86 requires it, it helps keep your furnace safe and productive, and it eliminates stressed-out pipe!