Kromschroder DG Industrial Gas pressure switches and DL Industrial Air pressure switches
The Best pressure switches on the Market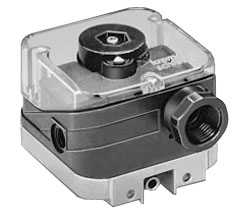 Kromschröder DG industrial pressure switches for gas, DG..VCT industrial pressure switches for gas, and DL industrial pressure switches for air for combustion systems, industrial furnaces, and industrial burners, are reliable, affordable, and unbeatable! The superior hysteresis of these units means maximum repeatability and an end to switch chattering. Are you tired of switches that open or close beyond your control? Are you under pressure to improve the safety standards of your fuel train? Switch to the best there is!
All full-sized DG and DL industrial pressure switches feature a bright indicating LED and a pressure tap built right in. This means that most users will have everything they need in one unit, without having to order costly accessories.
Every Kromschröder pressure switch features a hand-adjustable, clearly marked wheel for manually fixing your set-point, making these switches easy to use as well as highly accurate! On top of that, DGs and DLs are extremely versatile - they can be used as either static or differential switches for air.
Our industrial pressure switches are engineered in Osnabruck, Germany, for accuracy, versatility, and extremely long life (a built-in filter prevents contaminants from entering the mechanism). Spare LEDs are available, should one burn out, and there is even a compact line of pressure switches that mount directly to Valvario series solenoid valves (DG..VCT).
pressure switches for Gas
DG Industrial Gas Pressure Switch

Industrial diaphragm gas pressure switches with micro switch for monitoring gas pressures on industrial installations, for gas and air, also suitable for biologically produced methane, with hand wheel for adjusting the switch-on point. FM and UL approved.

DG..VCT Industrial Gas Pressure Switch

The DG..VCT gas pressure switch monitors the increasing or decreasing positive pressure of natural gas, town gas, LPG, flue gas, biologically produced methane, and air, for example, on a gas control line. FM and UL approved.
pressure switches for Air
DL Industrial Air Pressure Switch

DL industrial air pressure switches provide accurate, reliable supervision of air pressure for both industrial and commercial combustion systems, boilers, HVAC systems, and a wide variety of other applications.