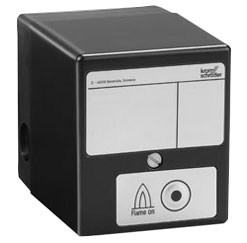 This item is not available for order online
For signaling flame
For multi-burner control during intermittent operation in conjunction with automatic burner control IFS 110 IM
UV-detector or ionization control with flame rod
Potential free contacts
Integrated "ON" lamp
FM approved
Accessories
No Accessories
Applications
Flame control with flame rod

An alternating voltage is applied between the flame rod, which projects into the flame, and the grounded burner. As soon as the flame is established a small current flows through it and is rectified by the flame. The electronic amplifying stage detects only this direct current signal which, after amplification, is used to energize a relay. A flame cannot be simulated.
Flame control with UV-detector

The UV-detector mainly consists of a tube which is sensitive to light and of electronic components. The tube responds to the ultra violet (UV) radiation from a gas flame, it does not react to sunlight and light from filament lamps.
Specifications
General Specifications
Operating voltage:
110 VAC/120 VAC + 10/-15%, 50/60 Hz
Power consumption:
12 VA
Output voltage for ionization sensor:
220 VAC
Sensor current:
> 1 µA DC
Output signal:
Potential free contacts, one NC, one NO contact
Contact rating:
max. 2 A
Flame signal:
lamp in device
Ambient temperature:
-4 °F to 140 °F (-20 °C to +60 °C)
Cable gland:
Five openings for external wire connection
Terminals:
2 × AWG 16 (2 × 1.5 mm2)
Mounting position:
any
Weight:
0.8 Ibs (0.37 kg)