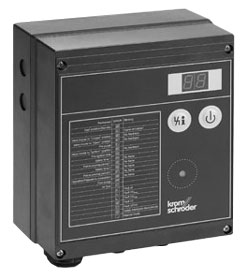 Burner Control BCU 370QFEU0D3B1-3
Price:
Mains voltage: 120 V AC, 50/60 Hz
No ignition
Tightness control, ProifiBUS-DP and butterfly valve control over ProfiBUS
Modulation of forced air gas burners of unlimited capacity in intermittent or continuous operation
Control of fan and butterfly valves
Easy start-up and maintenance in manual operating mode
Enhanced flexibility and simplified logistics with programmable functions
Easy servicing with user-friendly operating, warning, and fault messages
CSA and FM approved
Accessories
Model and Description
Price
Cart
PCO 200
Optical Adapter for BC Soft with USB interface, includes CD-ROM
Ignition Cable
Silicone Rubber Cable High Voltage 7mm (priced per foot).
Applications
Click on images for close-up view.
Modulating-controlled forced draught burner

The BCU 370 controls the blower and moves the butterfly valve to pre-purging and ignition position. It issues the Enable signal to the control system after start-up of the burner.
Modulating-controlled forced draught burner with tightness control

In addition to controlling the forced draught burner, the burner control unit also monitors the fail-safe function of the two solenoid valves for gas via the DG gas pressure switch.
Modulating-controlled forced draught burner with pilot burner and tightness control

A pilot burner ignites the main burner and is switched off during the main burner's safety time.
Specifications
Electrical
Mains voltage:
120 V AC, -15/+10%, 50/60 Hz, for grounded or ungrounded mains.
Power consumption:
Approx. 9 VA plus approx. 50 VA for integrated ignition
Voltage to inputs, valves, fan, controller enable, actuator and ignition unit:
mains voltage
Flame control with UV sensor or ionization sensor:
Ionization control: 1 – 28 µA
UV control: 1 – 35 µA
Input voltage signal inputs:
Signal "1": 80-126.5 V
Signal "0": 0-20V
Input current signal "1":
Typ. 2 mA
Output to ignition transformer:
No-switch contacts via semi-conductor
Max. number of operating cycles:
250,000
Contact Ratings
Valves:
Max. 1 A, cos φ = 1
Butterfly valves:
Max. 1 A, cos φ = 1
Ignition:
Max. 1 A, cos φ = 0.3
Controller enable signal:
Max. 1 A, cos φ = 1, the contacts may be loaded with a max. total of 2.5 A
Fan:
Max. 3 A, start-up current: Max. 6.5 A < 1 s.
The outputs may be loaded with a max. total of 4 A.
Operation and fault signalling contacts:
Dry Contact, max. 1 A, 253 V, not fused internally
Reset/Information button:
Max. number of operating cycles: 1000
Fuse in BCU, replaceable, F1:
T 5A H, pursuant to IEC 60127-2/5
Permissible UV sensors:
Elster Kromschroder models UVS 1, 5, 6, 8 and UVD 1
Operation and Environment
Maximum length of ignition cable with integrated electronic ignition:
1 m
Maximum length of ionization/UV cable:
50 m (164 ft)
Ambient temperature:
BCU 370: -20 – +60 °C (-4 – +140 °F)
BCU 370..I: -10 – +60 °C (14 – +140 °F)
no condensation permitted
Construction Materials
Enclosure:
IP 54 pursuant to IEC 529
Housing:
impact-resistant and heat-resistant plastic
Upper section:
Plug-in upper section with operating and display elements
Lower section:
connection terminals, earthing strip and prewired neutral bus with spacious wiring chamber
Connections:
1x M25 multiple screw connector, 4x 7 mm cable grommets.
2x M20 multiple screw connectors, 2x 7 mm cable grommets, and loosely enclosed.
1x or 2x M16 plastic screw connector(s) for the ignition cable(s).
Weight:
Approx. 1.8 kg (4 lbs.)
Jump to BCU 370 model page
Click Here for Help choosing which model you need.
(Click here to Close)
BCU 370QFEU0D1
Price:
Without ignition; Mains voltage: 120 V AC, 50/60 Hz
BCU 370QFEU0D3
Price:
Without ignition; With tightness control; Mains voltage: 120 V AC, 50/60 Hz
BCU 370QI1FEU0D1
Price:
Electronic ignition, single-pole; Mains voltage: 120 V AC, 50/60 Hz
BCU 370QFEU0D3B1-3
Price:
With tightness control, ProifiBUS-DP and butterfly valve control over ProfiBUS; Mains voltage: 120 V AC, 50/60 Hz
PCO 200
Price:
Optical Adapter for BC Soft with USB interface, includes CD-ROM
Ignition Cable
Price:
Silicon Cable High Voltage 7mm (priced per foot)