Now that you're familiar with the history, ideas, and benefits of pulse-fire, it's time to look at implementation. Knowing what you do about the demands that pulse-firing exacts upon components, you want to make sure to get the most for your money, so you don't wind-up spending your fuel savings on replacements.
ValVario
Kromschröder's valVario series of solenoid valves are designed with pulse-fire in mind. These solenoid valves are known for their extremely high operating cycle rating and modular accessories. ValVario products fit together easily to create compact fuel trains, and quarter-inch plugs in the valve body may be removed to install DG..VCT pressure switches or test ports. Our customers rave about the reliability, and when a replacement is necessary, bolt-on threaded flanges make changing valves a breeze.
Available models include the VAS solenoid valve for gas and air, available with proof of closure and visual indication, VAG solenoid valve for gas with ratio regulator, and VAD solenoid valve for gas with pressure reducing regulator. Other valVario products include the VMO metering orifice, VMF filter module, and VMV fine-adjusting valve.
Kromschröder Burners
Reliability makes Kromschröder burners the popular choice for a wide range of pulse-fire applications. Used mainly in industrial furnaces and kilns as well as commercial ovens and dryers, BIO, BIC, ZIO, and ZIC burners are ideal for metals (ferrous and non-ferrous), automotive, ceramics, textiles, wood, paper, and food processing industries. These burners also provide outstanding performance in thermal after-burning plants, hot air generators, and dryers.
BIO, BIO(A), and ZIO burners can be equipped with a heat-resistant steel tube (which takes the place of a ceramic burner tile) for low temperature applications. Using a refractory tile (quarl) with the BIO, BIO(A), and ZIO burners extends their use into high temperatures with medium- to low-velocity flames.
BIC, BIC(A) and ZIC burners are great for pulse-fire applications due to their high outlet velocity and high pulse magnitude. BIC and BIC(A) burners use TSC silicon carbide tube sets to serve as the combustion chamber.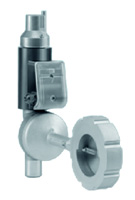 Solenoid Actuated Butterfly Valves
Designed for rigorous use and the maximum amount of operating cycles, Kromschröder's BVHM butterfly valve and MB..7 solenoid actuator combination is the top choice for pulse-fire systems.
BVHM butterfly valves are available in sizes from 1.5 to 4 inches, for cold- or hot-air (up to 450 degrees C, or 842 degrees F).
The MB..7 actuator features a blue LED that indicates the operating state of the BVHM, and is incredibly easy to set for low- and high-fire positions, and it is available in a variety of actuating speeds.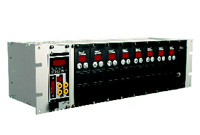 MPT 700
Cost-effective, compact pulse control can be achieved with ease using Kromschröder's MPT 700 impulse system in conjunction with PFU automatic burner control units, mounted in a 19 inch sub-rack. The extremely versatile PF-19 burner control system can be tailored to meet individual needs, is designed for door or panel mounting in a control enclosure, and provides very high-density flame supervision.
The MPT 700 module provides pulse-fire control for the PF-19 system without programming – simply connect the PF-19 to your own series limit string and temperature loop controller and you have a complete combustion system. PF-19 racks can be ganged together to control furnaces with hundreds of burners.
For additional information on these and many other Kromschröder products, please visit the relevant product pages here on Combustion 911, and feel free to download the most up-to-date literature available from the manufacturer.
NEXT: Pulse-fire Pitfalls
Through our discussions regarding equipment selection, you've learned that pulse-fire requires solenoid valves with extremely high operating cycles, burners that light reliably, and some method of impulse control. Through dozens of installations, our technicians have encountered and overcome a number of additional pitfalls, which can derail even the best planned system.
Join us in two weeks as we explore a few of these Pulse-fire Pitfalls.