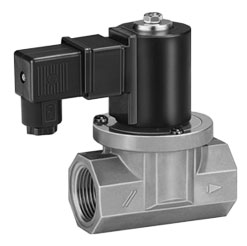 Industrial Solenoid Valve VGP
Kromschroder has discontinued manufacture of Industrial Solenoid Valve VGP. Stock on these robust and long-lasting valves is fast approaching zero. We do, however have some still left. We have one (1) Model VGP 10TN02Q6 (3/8 inch NPT internal thread connection) and two (2) Model VGP 25TN01Q6 (1 inch NPT internal thread connection). If you already have one of these in your combustion system you already know what a fantastic value they are. Get that backup valve today and you may never have to worry about getting a replacement valve again.
Widely used as gas safety shut-off valves for industrial and commercial combustion systems, the VGP solenoid valve features low maintenance and high life expectancy (2 million cycles). It is designed specifically for continuous on/off cycling. It is FM and UL approved.
If you can't find the same model VGP valve, you will want to check out the VAS 1 Industrial Solenoid Valve as a replacement. The actual footprint is different, but the functionality is similar enough. If you need help finding the right replacement valve, just leave us some details in the comments below.