Baron von Olsträd's Sketchbook #3
The new Baron von Olsträd comic is here! Today's installment opens the discussion of proper burner ignition methods, as opposed to the example set by the worker below, who seems to hallucinate talking, floating flames. Or maybe the unsafe method employed in this example has caused a fire in the plant?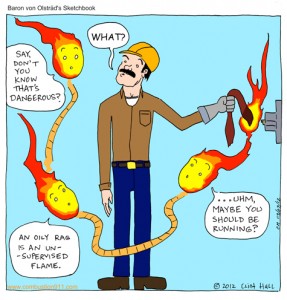 Click the image to visit the Baron von Olsträd's Sketchbook page containing the large version of this comic, along with notes outlining proper burner lighting procedures. The Olsträd family of companies provides burner ignition solutions that conform to manufacturer's standards and recommendations. If you are interested in moving to a direct-spark or pilot method of ignition, or if you already utilize one of these methods, and are in need of spare or replacement electrode rods, spark plugs, transformers, ignition cable, or pilot burners/parts, please write or call with your inquiries. As always, thank you for visiting Combustion 911.