Baron von Olsträd's Sketchbook #4
We decided to post the new Baron von Olsträd comic a little early, due to the spooky nature of the the subject matter. Most folks who've been through furnace commissioning, either on a new installation or on a rebuild, have heard the horror stories. Some folks have lived them. Today's comic explores the extreme result of an unreasonably long commissioning – all that's missing is the blood-curdling scream.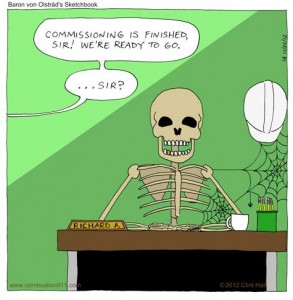 Click the image to visit the Baron von Olsträd's Sketchbook page containing the large version of this comic, along with The Baron's thoughts on commissioning. Olsträd Engineering offers a full range of combustion services, and our staff is always happy to help you explore your options. If you've got an ectoplasmic emergency, call the Ghostbusters. If you've got a combustion conundrum, call Olsträd Engineering.
As always, thank you for visiting Combustion 911.