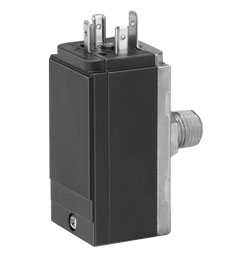 Pressure Switch DG 17VCT1-6W
Price:
17 mbar Max
Connections: valVario; 4-pin plug with socket, change-over contact
Switching point pre-set as desired at the factory
Simple switching point adjustment with infinitely adjustable hand wheel
Little space required thanks to compact dimensions
Double pressure switch for minimum and maximum gas pressure monitoring in one unit
Recyclable, no composite materials
Suitable for natural gas, town gas, LPG, flue gas, biologically produced methane and air
FM approved and UL listed; RoHS compliant
Accessories
Model and Description
Price
Cart
DG/DL ACC 10
DG..VCT spare plug set
Applications
Click on images for close-up view.
Boilers

The DG..VCT controls the minimum or maximum gas inlet pressure on high-performance boilers.
Low-pressure cut-off and high gas pressure protection device

If the pressure is either too high or too low, the double pressure switch DG../..C switches, in order to avoid start-up or to initiate a safety shut-down.
Fan monitoring

On forced draught burners, the minimum or maximum pressure is retrieved by the burner control unit via the pressure switch DG..VCT. If the set switching point is exceeded or undershot, the fan will either be switched on or off by the burner control unit.
Specifications
Gas type:
natural gas, town gas, LPG, flue gas, biologically produced methane and air
Max. inlet pressure:
600 mbar (8.5 psig)
Max. test pressure for testing the entire system:
temporarily < 15 minutes 2 mbar (29 psig)
Switching capacity:
DG..VCT, 24 – 250 V AC: I = 0.05 – 5 A at cos φ =1, I = 0.05 – 1 A at cos φ = 0.6.

DG..VCT..G, 12 – 250 V AC: I = 0.01 – 5 A at cos φ = 1, I = 0.01 – 1 A at cos φ = 0.6.

DG..VCT..G, 12 – 48 V DC: I = 0.01 – 1 A. DG..VCT, 30 – 240 V AC: I = 5 A at cos φ = 1, I = 0.5 A at cos φ = 0.6.

DG..VCT..G, < 30 V AC: I = 0.1 A at cos φ = 1, I = 0.05 A at cos φ = 0.6.

If the DG..VCT..G (DG..VCT..G) has switched a voltage > 24 V (> 30 V) and a current > 0.1 A once, the gold plating on the contacts will have been burnt through. It can then only be operated at this power rating or higher power rating.
Ambient temperature:
DG..VCT: -10 to +70°C (14 to 158°F)
DG..VCTT: -15 to +60°C (5 to 140°F)
Construction:
RoHS-compliant pursuant to 2002/95/EC.

Diaphragm pressure switch, silicone-free.

Diaphragm: NBR.

Housing: glass fibre reinforced PBT plastic with low gas release.

Lower housing section: AlSi 12.

Enclosure: IP 54 pursuant to DIN EN 60529 with standard socket to DIN EN 175301-803, IP 00 with AMP plug.

Safety class: 1.
Maintenance:
We recommend a function check once a year.
Certifications:
EC type-tested and certified pursuant to Gas Appliances Directive (90/396/EEC).

Meets the requirements of the Low Voltage Directive (2006/95/EC)

FM approval: Factory Mutual Research Class: 3510 Flow
and pressure safety switches. Designed for applications pursuant to NFPA 85 and NFPA86. www.fmglobal.com → Products and Services → Product Certification → Approval Guide

UL approval: Standard: UL 353 Limit control. Underwriters Laboratories - www.ul.com → Certification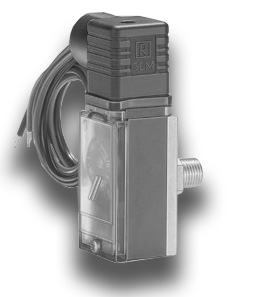 Pressure Switch for Gas DG..VCTT
Jump to DG..VCT model page
Click Here for Help choosing which model you need.
(Click here to Close)
DG 17VCT8-6W
Price:
Max Setting (mbar): 17; Switching Point Adjustment: on hand wheel; Connections: ¼″ NPT external thread; 4-pin plug with socket, change-over contact
DG 40VCT8-6W
Price:
Max Setting (mbar): 40; Switching Point Adjustment: on hand wheel; Connections: ¼″ NPT external thread; 4-pin plug with socket, change-over contact
DG 110VCT8-6W
Price:
Max Setting (mbar): 110; Switching Point Adjustment: on hand wheel; Connections: ¼″ NPT external thread; 4-pin plug with socket, change-over contact
DG 300VCT8-6W
Price:
Max Setting (mbar): 300; Switching Point Adjustment: on hand wheel; Connections: ¼″ NPT external thread; 4-pin plug with socket, change-over contact
DG 17VCT1-6W
Price:
Max Setting (mbar): 17; Switching Point Adjustment: on hand wheel; Connections: Valvario connection; 4-pin plug with socket; change-over contact
DG 40VCT1-6W
Price:
Max Setting (mbar): 40; Switching Point Adjustment: on hand wheel; Connections: Valvario connection; 4-pin plug with socket; change-over contact
DG 110VCT1-6W
Price:
Max Setting (mbar): 110; Switching Point Adjustment: on hand wheel; Connections: Valvario connection; 4-pin plug with socket; change-over contact
DG 300VCT1-6W
Price:
Max Setting (mbar): 300; Switching Point Adjustment: on hand wheel; Connections: Valvario connection; 4-pin plug with socket; change-over contact
DG 17VCT1-6WG
Price:
Max Setting (mbar): 17; Switching Point Adjustment: on hand wheel; Connections: Valvario connection; 4-pin plug with socket; change-over contact; gold-plated contacts
DG 40VCT1-6WG
Price:
Max Setting (mbar): 40; Switching Point Adjustment: on hand wheel; Connections: Valvario connection; 4-pin plug with socket; change-over contact; gold-plated contacts
DG 110VCT1-6WG
Price:
Max Setting (mbar): 110; Switching Point Adjustment: on hand wheel; Connections: Valvario connection; 4-pin plug with socket; change-over contact; gold-plated contacts
DG 300VCT1-6WG
Price:
Max Setting (mbar): 300; Switching Point Adjustment: on hand wheel; Connections: Valvario connection; 4-pin plug with socket; change-over contact; gold-plated contacts
DG/DL ACC 10
Price:
DG..VCT spare plug set