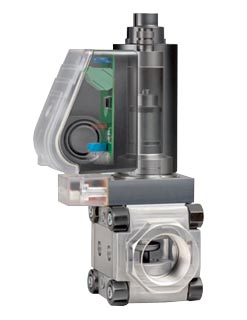 This item is not available for order online
Connection: Flanged ¾″ NPT internal thread
Open when de-energized
Suitable for a maximum inlet pressure of 500 mbar (7 psig)
Mains Voltage: 120 V AC, 50/60 Hz
Space-saving installation thanks to compact dimensions
Quick closing, quick opening
Check indication by blue LED
Compatible with valVario Size: 1
Viewing side: Right or Left
Applications
Relief valve with two gas solenoid valves and tightness control

Tightness control TC 2 checks the gas solenoid valves VAS and the magnetic relief valve VAN for tightness.

If the gas solenoid valves and the magnetic relief valve are tight, the tightness control forwards an enable signal to the automatic burner control unit. The pilot valve output of the automatic burner control unit opens the gas solenoid valves VAS simultaneously. The burner starts.

In accordance with the Russian safety regulations PB 12-529-03, installations with a capacity of ≥ 1.2 MW must be fitted with a relief valve and tightness control.
Relief valve with 2 gas solenoid valves

A valve, open when de-energized, is designed to purge gas to a safe venting point.

For the NAFTA market, this applies for capacities of ≥ 117 kW (400,000 BTU/h)
Inert gas atmosphere for annealing processes

Whenever no hydrogen is needed for the annealing process (e.g. in the case of an annealing bell), the gas solenoid valves VAS and the magnetic relief valve VAN are disconnected from the electrical power supply. The VAN opens. Under high pressure, nitrogen can now get between the two gas solenoid valves VAS. This prevents hydrogen from flowing into the furnace.
Specifications
Operating Limits
Ambient temperature range:
-4° F to 104° F (-20° C to 40° C)
Maximum inlet pressure:
3 psig (200 mbar)
Maximum static line pressure :
30 psig (2.1 bar) (with valve closed)
Opening time:
less than 0.5 seconds
Closing time:
less than 1 second
Operating life:
2 million cycles
Electrical Data
Supply voltage:
120 Vac; +10/-15%; 50/60 Hz
Duty cycle:
Continuous
Conduit connection:
1⁄2″ NPT
Terminal:
Maximum 14 gauge wire size
Type of enclosure:
NEMA 3 (IP 54)
Solenoid coil insulation:
Class F
Solenoid coil power factor:
cos φ = 1
Power consumption at 120 Vac:
31 VA or watts
A full wave rectifier located in the terminal box converts incoming AC current to DC.
Power consumption is the same on start-up and during continuous operation.
Construction Materials
VAN vent valves have pressure die cast aluminium bodies and solenoid housings with nitrile rubber o-rings seals and valve disc seal. Valve constructed with 1⁄4″ pressure taps on both sides of the valve outlet and built in mesh strainers.
Click Here for Help choosing which model you need.
(Click here to Close)
VAN 1T15N/NQ
Price:
valVario size: 1; Connection: Flanged ½″ NPT internal thread; Open/close speeds: quick opening, quick closing; Mains Voltage 120 V AC, 50/60 Hz; Visual indicator: No; Flow direction: Either
VAN 1T20N/NQ
Price:
valVario size: 1; Connection: Flanged ¾″ NPT internal thread; Open/close speeds: quick opening, quick closing; Mains Voltage 120 V AC, 50/60 Hz; Visual indicator: No; Flow direction: Either
VAN 1T25N/NQ
Price:
valVario size: 1; Connection: Flanged 1″ NPT internal thread; Open/close speeds: quick opening, quick closing; Mains Voltage 120 V AC, 50/60 Hz; Visual indicator: No; Flow direction: Either
VAN 2T32N/NQ
Price:
valVario size: 2; Connection: Flanged 1¼″ NPT internal thread; Open/close speeds: quick opening, quick closing; Mains Voltage 120 V AC, 50/60 Hz; Visual indicator: No; Flow direction: Either
VAN 2T40N/NQ
Price:
valVario size: 2; Connection: Flanged 1½″ NPT internal thread; Open/close speeds: quick opening, quick closing; Mains Voltage 120 V AC, 50/60 Hz; Visual indicator: No; Flow direction: Either
VAN 2T50N/NQ
Price:
valVario size: 2; Connection: Flanged 2″ NPT internal thread; Open/close speeds: quick opening, quick closing; Mains Voltage 120 V AC, 50/60 Hz; Visual indicator: No; Flow direction: Either
VAN 1T15N/NQSR
Price:
valVario size: 1; Connection: Flanged ½″ NPT internal thread; Open/close speeds: quick opening, quick closing; Mains Voltage 120 V AC, 50/60 Hz; Visual indicator: Yes; Flow direction: Right
VAN 1T20N/NQSR
Price:
valVario size: 1; Connection: Flanged ¾″ NPT internal thread; Open/close speeds: quick opening, quick closing; Mains Voltage 120 V AC, 50/60 Hz; Visual indicator: Yes; Flow direction: Right
VAN 1T25N/NQSR
Price:
valVario size: 1; Connection: Flanged 1″ NPT internal thread; Open/close speeds: quick opening, quick closing; Mains Voltage 120 V AC, 50/60 Hz; Visual indicator: Yes; Flow direction: Right
VAN 2T32N/NQSR
Price:
valVario size: 2; Connection: Flanged 1¼″ NPT internal thread; Open/close speeds: quick opening, quick closing; Mains Voltage 120 V AC, 50/60 Hz; Visual indicator: Yes; Flow direction: Right
VAN 2T40N/NQSR
Price:
valVario size: 2; Connection: Flanged 1½″ NPT internal thread; Open/close speeds: quick opening, quick closing; Mains Voltage 120 V AC, 50/60 Hz; Visual indicator: Yes; Flow direction: Right
VAN 2T50N/NQSR
Price:
valVario size: 2; Connection: Flanged 2″ NPT internal thread; Open/close speeds: quick opening, quick closing; Mains Voltage 120 V AC, 50/60 Hz; Visual indicator: Yes; Flow direction: Right
VAN 1T15N/NQSL
Price:
valVario size: 1; Connection: Flanged ½″ NPT internal thread; Open/close speeds: quick opening, quick closing; Mains Voltage 120 V AC, 50/60 Hz; Visual indicator: Yes; Flow direction: Left
VAN 1T20N/NQSL
Price:
valVario size: 1; Connection: Flanged ¾″ NPT internal thread; Open/close speeds: quick opening, quick closing; Mains Voltage 120 V AC, 50/60 Hz; Visual indicator: Yes; Flow direction: Left
VAN 1T25N/NQSL
Price:
valVario size: 1; Connection: Flanged 1″ NPT internal thread; Open/close speeds: quick opening, quick closing; Mains Voltage 120 V AC, 50/60 Hz; Visual indicator: Yes; Flow direction: Left
VAN 2T32N/NQSL
Price:
valVario size: 2; Connection: Flanged 1¼″ NPT internal thread; Open/close speeds: quick opening, quick closing; Mains Voltage 120 V AC, 50/60 Hz; Visual indicator: Yes; Flow direction: Left
VAN 2T40N/NQSL
Price:
valVario size: 2; Connection: Flanged 1½″ NPT internal thread; Open/close speeds: quick opening, quick closing; Mains Voltage 120 V AC, 50/60 Hz; Visual indicator: Yes; Flow direction: Left
VAN 2T50N/NQSL
Price:
valVario size: 2; Connection: Flanged 2″ NPT internal thread; Open/close speeds: quick opening, quick closing; Mains Voltage 120 V AC, 50/60 Hz; Visual indicator: Yes; Flow direction: Left