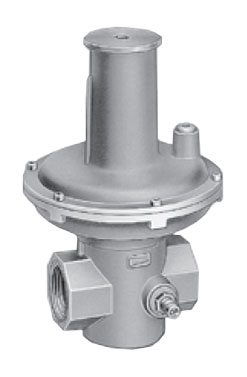 Safety Relief Valve VSBV 25TN40-0
Price:
Safety relief valve for relieving brief pressure surges in control systems preventing the safety shut-off valve JSAV from being activated unintentionally.
Gas types: natural gas, town gas, landfill gas, LPG (gaseous) and biologically produced methane (max. 0.02 %-by-vol. H2S)
1″ NPT internal thread connection
Maximum inlet pressure: 60 psig (4 bar)
Opening pressure range adjustable 8" WC to 8.0 psig / 20–500 mbar
Free of nonferrous metal
CE certified models available
Required for use with Regulator JSAV Overpressure Shut-off valve
Accessories
†Comes standard with the purchase of the VSBV valve.
Applications
Click on images for close-up view.
| | |
| --- | --- |
| | Gas pressure regulating systems should be assembled with a Regulator JSAV safety over pressure slam shut off valve upstream of the regulator and safety relief valve VSBV. These safety valves are not required if the highest possible operating pressure of the regulator does not exceed the maximum permissible operating pressure of all devices connected downstream of the regulator. |
Specifications
Operating Limits
Ambient temperature range:
5° F to 140° F (-15° C to 60° C)
Maximum inlet pressure:
60 psig (4 bar)
Response Pressure:
8" WC to 7.0 psig (20 to 500 mbar)
Factory setting:
1.43 psig (100 mbar)
Type of Gas:
natural gas, clean coke oven gas, and LPG
Mechanical Data
Available pipe sizes:
NPT-threaded: 1″
Construction Materials
Housing:
JSAV and VSBV regulators have pressure die-cast aluminium alloy bodies and diaphragm housings. Diaphragms are nitrile
rubber, and valve discs have vulcanized nitrile rubber seals. Valve stems and valve discs are aluminum.
Opening Pressure Range

Type
Opening Pressure Range
Color
VSBV
8-16″ WC
14-20" WC
18-30" WC
1.0-2.5 psi*
2.5-4.8 psi
4.7-7.2 psi
20-40 mbar
35-50 mbar
45-75 mbar
70-170 mbar*
165-330 mbar
320-500 mbar
red
yellow
green
blue*
black
white


*standard spring
Jump to VSBV/Accessory page
Click Here for Help choosing which model you need.
(Click here to Close)
VSBV 25TN40-0
Price:
1″ NPT internal thread connection; Maximum inlet pressure: 60 psig (4 bar)
VSBV Spring 01
Price:
8-16 " w.c. (20-40 mbar), red
VSBV Spring 02
Price:
14-20 " w.c. (35-50 mbar), yellow
VSBV Spring 03
Price:
18-30 " w.c. (45-75 mbar), green
VSBV Spring 04
Price:
1-2.5 psi (70-170 mbar), blue (included with VSBV)
VSBV Spring 05
Price:
2.5-4.8 psi (165-330 mbar), black
VSBV Spring 06
Price:
4.7-7.2 psi (320-500 mbar), white
Latest Blog Post
Use the ZI-808 From the Internet


One of the most exciting features of the ZI-808 is its built-in web server. Its user interface is designed like a standard web page and embedded into the instrument. That means that any device that can open a web page can use it. Desktop, laptop, tablet, smart phone, Android, Windows, iOS, Linux, Edge, IE, Chrome, Firefox. read full post