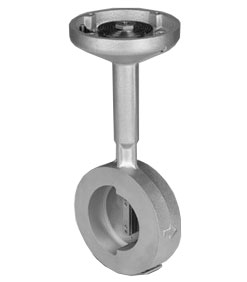 Butterfly Valve BVHS 40W01A
Price:
This item is not available for order online
Safety-closing function in event of a main voltage failure
Bore diameter: 1½″
Max inlet pressure: 150 mbar (2.18 psig)
Connection fitting: between two ANSI flanges (1½″)
Stop bar: Yes
For gas, air, hot air and flue gas
Low leakage rate and pressure loss
High control accuracy
Can be mounted directly onto the actuators IC 20 or IC 40
Suitable for intermittent operation
Low-maintenance operation
Applications
Click on images for close-up view.
BVHS, safety closing function in the event of a mains voltage failure

The safety closing function ensures that in the event of a mains voltage failure air cannot stream into the furnace without being under control.

The BVHS is installed on the air side together with the actuator IC 40S.

The butterfly valve with manual adjustment is used to adjust the high-fire rate.
Specifications
Types of Gas:
Air and flue gas
Construction materials:
Housing: GGG
Valve disc: Stainless steel
Drive shaft: Stainless steel
Inlet pressure pe:
max. 150 mbar (2.16 psi)
Pressure differential between inlet pressure pe and outlet pressure pa:
max. 150 mbar (2.16 psi)
Medium temperature:
-20 to 450 °C (-4 to +840 °F)
Ambient temperature:
-20 to +60 °C (-4 to +140 °F)
Maintenance cycles:
We recommend a function check once a year.
Click Here for Help choosing which model you need.
(Click here to Close)
BVHS 40W01A
Not available Online
Bore diameter: 1½″; Max inlet pressure: 150 mbar (2.18 psig); Connection fitting: between two ANSI flanges (1½″); Stop bar: Yes
BVHS 50W01A
Not available Online
Bore diameter: 2″; Max inlet pressure: 150 mbar (2.18 psig); Connection fitting: between two ANSI flanges (2″); Stop bar: Yes
BVHS 65W01A
Not available Online
Bore diameter: 2½″; Max inlet pressure: 150 mbar (2.18 psig); Connection fitting: between two ANSI flanges (2½″); Stop bar: Yes
BVHS 80W01A
Not available Online
Bore diameter: 3″; Max inlet pressure: 150 mbar (2.18 psig); Connection fitting: between two ANSI flanges (3″); Stop bar: Yes
BVHS 100W01A
Not available Online
Bore diameter: 4″; Max inlet pressure: 150 mbar (2.18 psig); Connection fitting: between two ANSI flanges (4″); Stop bar: Yes
BVH ACC 01
Price:
Heat deflectors /B