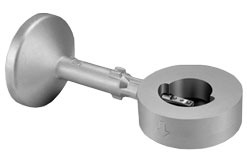 Butterfly Valve BVHM 50W01A
This item is not available for order online
2″ Bore diameter
Maximum inlet pressure: 150 mbar (2.18 psig)
Connection is made between two 2″ ANSI flanges
With Stop bar
For gas, air, hot air and flue gas up to 450°C
Low leakage rate and pressure loss
High control accuracy
Can be mounted directly onto the solenoid actuator MB 7
Suitable for intermittent operation
Low-maintenance operation
FM approved
Applications
Click on images for close-up view.
BVHM, large number of operating cycles for intermittent operation

The butterfly valve BVHM features flow adjustment for low-fire and high-fire rate. The valve stop ensures low leakage rates. With fitted solenoid actuator MB 7, the valve is suitable for intermittent operation.
Specifications
General
Types of Gas:
Air and flue gas
Construction materials:
Housing: GGG
Valve disc: Stainless steel
Drive shaft: Stainless steel
Inlet pressure pe:
max. 150 mbar (2.16 psi)
Pressure differential between inlet pressure pe and outlet pressure pa:
max. 150 mbar (2.16 psi)
Medium temperature:
-20 to 450 °C (-4 to +840 °F)
Ambient temperature:
-20 to +60 °C (-4 to +140 °F)
Certifications:
FM approved
Factory Mutual Research Class: 7400 Process Control Valves
Designed for applications pursuant to NFPA 85 and NFPA 86.
Maintenance cycles:
We recommend a function check once a year.
The BVHM is often ordered with Solenoid Actuator MB..7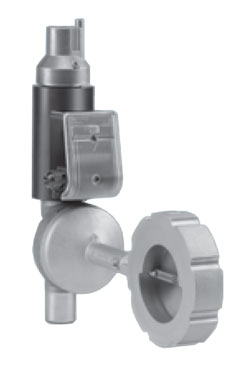 Butterfly Valve BVHM with Solenoid Actuator MB 7
Click Here for Help choosing which model you need.
(Click here to Close)
BVHM 40W01A
Price:
Bore diameter: 1½″; Max inlet pressure: 150 mbar (2.18 psig); Connection fitting: between two ANSI flanges (1½″); Stop bar: Yes
BVHM 50W01A
Price:
Bore diameter: 2″; Max inlet pressure: 150 mbar (2.18 psig); Connection fitting: between two ANSI flanges (2″); Stop bar: Yes
BVHM 65W01A
Price:
Bore diameter: 2½″; Max inlet pressure: 150 mbar (2.18 psig); Connection fitting: between two ANSI flanges (2½″); Stop bar: Yes
BVHM 80W01A
Price:
Bore diameter: 3″; Max inlet pressure: 150 mbar (2.18 psig); Connection fitting: between two ANSI flanges (3″); Stop bar: Yes
BVHM 100W01A
Price:
Bore diameter: 4″; Max inlet pressure: 150 mbar (2.18 psig); Connection fitting: between two ANSI flanges (4″); Stop bar: Yes
BVH ACC 01
Price:
Heat deflectors /B