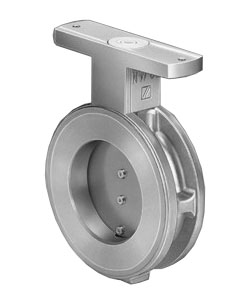 Butterfly Valve BVG 80W05
This item is not available for order online
3″ Bore diameter
Maximum inlet pressure: 500 mbar (7.25 psig)
Connection is made between two 3″ ANSI flanges
For gas, air, hot air and flue gas
Low leakage rate and pressure loss
High control accuracy
Can be mounted directly onto the actuators IC 20 or IC 40
Suitable for intermittent operation
Low-maintenance operation
Applications
Click on images for close-up view.
BVG, lambda correction

If the burner is to be operated with excess gas or air for reasons of the process operation, the butterfly valve BVG can be used to correct the lambda value.

The butterfly valve with manual adjustment is used to adjust the high-fire rate.
Specifications
General
Types of Gas:
Natural gas, town gas, LPG and other non-aggressive fuel gas
Construction materials:
AlSi
Valve disc: Aluminium
Drive shaft: Stainless steel
Seals: HNBR
Inlet pressure pe:
max. 500 mbar (7.25 psi)
Pressure differential between inlet pressure pe and outlet pressure pa:
max. 150 mbar (2.16 psi)
Medium temperature:
-20 to 60 °C (-4 to +140 °F)
Ambient temperature:
-20 to +60 °C (-4 to +140 °F)
Certification:
EC type-tested and certified pursuant to Gas Appliances Directive (90/396/EEC) on the basis of EN 13611/EN 161.
Maintenance cycles:
We recommend a function check once a year.
Click Here for Help choosing which model you need.
(Click here to Close)
BVG 40W05
Price:
Bore diameter: 1½″; Max inlet pressure: 500 mbar (7.25 psig); Connection fitting: between two ANSI flanges (1½″
BVG 50W05
Price:
Bore diameter: 2″; Max inlet pressure: 500 mbar (7.25 psig); Connection fitting: between two ANSI flanges (2″)
BVG 65W05
Price:
Bore diameter: 2½″; Max inlet pressure: 500 mbar (7.25 psig); Connection fitting: between two ANSI flanges (2½″)
BVG 80W05
Price:
Bore diameter: 3″; Max inlet pressure: 500 mbar (7.25 psig); Connection fitting: between two ANSI flanges (3″)
BVG 100W05
Price:
Bore diameter: 4″; Max inlet pressure: 500 mbar (7.25 psig); Connection fitting: between two ANSI flanges (4″)
BVG 40/32W05
Price:
Bore diameter: 1¼″ (reduced bore); Max inlet pressure: 500 mbar (7.25 psig); Connection fitting: between two ANSI flanges (1½″)
BVG 50/40W05
Price:
Bore diameter: 1½″ (reduced bore); Max inlet pressure: 500 mbar (7.25 psig); Connection fitting: between two ANSI flanges (2″)
BVG 65/50W05
Price:
Bore diameter: 2″ (reduced bore); Max inlet pressure: 500 mbar (7.25 psig); Connection fitting: between two ANSI flanges (2½″)
BVG 80/65W05
Price:
Bore diameter: 2½″ (reduced bore); Max inlet pressure: 500 mbar (7.25 psig); Connection fitting: between two ANSI flanges (3″)
BVG 100/80W05
Price:
Bore diameter: 3″ (reduced bore); Max inlet pressure: 500 mbar (7.25 psig); Connection fitting: between two ANSI flanges (4″)
BVG 40/25W05
Price:
Bore diameter: 1″ (2 × reduced bore); Max inlet pressure: 500 mbar (7.25 psig); Connection fitting: between two ANSI flanges (1½″)
BVG 50/32W05
Price:
Bore diameter: 1¼″ (2 × reduced bore); Max inlet pressure: 500 mbar (7.25 psig); Connection fitting: between two ANSI flanges (2″)
BVG 65/40W05
Price:
Bore diameter: 1½″ (2 × reduced bore); Max inlet pressure: 500 mbar (7.25 psig); Connection fitting: between two ANSI flanges (2½″)
BVG 80/50W05
Price:
Bore diameter: 2″ (2 × reduced bore); Max inlet pressure: 500 mbar (7.25 psig); Connection fitting: between two ANSI flanges (3″)
BVG 100/65W05
Price:
Bore diameter: 2½″ (2 × reduced bore); Max inlet pressure: 500 mbar (7.25 psig); Connection fitting: between two ANSI flanges (4″)
BVG ACC 01
Price:
Adapter set BVG with square shaft /B
BVG ACC 02
Price:
Adapter set BVG with free shaft end /B
BVG ACC 03
Price:
Adapter set BVG with manual adjustment /B