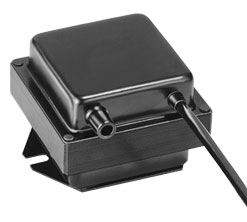 Ignition Transformer TZI 7-25/20R
Price:
Electrical ignition of gas burners
Ignition and burner control with a single electrode possible
For installation in a control cabinet or wall mounting
Complying with EN 61558-2-3
High voltage: 7 kV
Output current: 25 mA at 50 Hz (18 mA at 60 Hz)
Mains Voltage: 115V
Duty Cycle: 20%
Accessories
Model and Description
Price
Cart
Ignition Cable
Silicone Rubber Cable High Voltage 7mm (priced per foot).
Applications
Click on images for close-up view.
Double-electrode operation

Ignition using ignition electrode

Ignition transformer TGI/TZI is supplied with voltage via the automatic burner control unit IFD 258. The ignition transformer generates a high voltage. This high voltage creates ignition sparks between the ignition electrode and burner ground. After the burner start, a current flows via the ionization electrode for flame control.
Single-electrode operation

Ignition using an ignition and ionization electrode

After burner start, a flame control current flows via the same electrode that is also used for ignition.
Specifications
General
Voltage:
5kV to 7.5kV
Output current:
-12: 12 mA at 50 Hz (9 mA at 60 Hz)
-15: 15 mA at 50 Hz (11 mA at 60 Hz)
-20: 20 mA at 50 Hz (15 mA at 60 Hz)
-25: 25 mA at 50 Hz (18 mA at 60 Hz)
Duty Cycle:
/20: 20%
/33: 33%
/100: 100%
Mains voltage:
115V or 230V
Click Here for Help choosing which model you need.
(Click here to Close)
TZI 5-15/100R
Price:
High voltage: 5 kV; Output current: 15 mA at 50 Hz (11 mA at 60 Hz); Mains Voltage: 115V; Duty Cycle: 100%
TZI 7-25/20R
Price:
High voltage: 7 kV; Output current: 25 mA at 50 Hz (18 mA at 60 Hz); Mains Voltage: 115V; Duty Cycle: 20%
TZI 7,5-20/33R
Price:
High voltage: 7.5 kV; Output current: 20 mA at 50 Hz (15 mA at 60 Hz); Mains Voltage: 115V; Duty Cycle: 33%
TZI 7,5-12/100R
Price:
High voltage: 7.5 kV; Output current: 12 mA at 50 Hz (9 mA at 60 Hz); Mains Voltage: 115V; Duty Cycle: 100%
Latest Blog Post
Use the ZI-808 From the Internet


One of the most exciting features of the ZI-808 is its built-in web server. Its user interface is designed like a standard web page and embedded into the instrument. That means that any device that can open a web page can use it. Desktop, laptop, tablet, smart phone, Android, Windows, iOS, Linux, Edge, IE, Chrome, Firefox. read full post